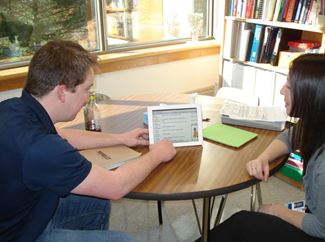 Things were coming together nicely for Bob Flanagan in the fall of 2011. A freshly minted Penn State graduate, Bob had recently moved to Washington, DC, to take his first "real job" as the manager of a Potbelly Sandwich Shop.
"I was there setting up my life and getting ready to be promoted," says Bob, a native of Broomall. "Then the accident happened."
On November 30, 2011, Bob and some friends were enjoying a night out on the town. As he went to get into a taxi, the driver started pulling away. Bob was knocked to the ground and suffered a traumatic brain injury. He also shattered three small bones in his left ear, which caused permanent hearing loss on that side.
Bob was rushed to George Washington University Hospital where part of his skull was removed to relieve the pressure building up in his head. Ironically, the Potbelly Sandwich Shop where he first worked when he moved to Washington was right around the corner from the hospital.
"I remember talking to one of his doctors as we drove down I-95 that night," says Kate Flanagan, Bob's mother. "He said he was glad that we were on our way and that we needed to get there as soon as possible. It was that serious."
Once Bob was stabilized, the hospital staff recommended that he be transferred to a rehabilitation facility to continue his recovery. One of the therapists at the hospital knew that Bob was from the Philadelphia area and she made a recommendation.
"The therapist said that she used to work at this great place outside Philadelphia, Bryn Mawr Rehabilitation Hospital," says Kate. "We were familiar with the hospital because my mother-in-law went there after having her knees replaced. But we knew nothing about its brain injury program."
Located in Malvern, Pa., and a member of Main Line Health, Bryn Mawr Rehab Hospital is a 148-bed, fully accredited facility that offers patients individualized, intensive recovery programs and access to the latest treatments and technologies. Patients are cared for by a team of experts in rehabilitative medicine, nursing, and occupational, cognitive, physical and speech therapy.
A little over two weeks after the accident, Bob was transferred by ambulance to Bryn Mawr Rehab Hospital. When he arrived, he couldn't walk or talk and still required breathing and feeding tubes. And although he would open his eyes, he wasn't fully responsive.
"I remember Bob's physical therapist working with him on his first full day at Bryn Mawr Rehab," says Kate. "She gave us the encouragement that Bob would walk again by the time he left inpatient treatment and she was right."
According to Bob, the hardest part of recovery was relearning how to talk.
"I would mix up all kinds of words, like calling my head my cheese," he says. "My friends and family had to learn to interpret what I was trying to say."
For the next two months, Bob would work hard as he tried to regain the functions of daily life he once took for granted.
"The therapists were tough but in a good way," he says. "I remember not understanding why I couldn't do certain things and being frustrated. But they stuck with me. When I started learning to walk again I could only drag my feet. I felt like a baby…I had to learn to crawl before I could walk."
"Every day he did something different," says Kate. "Everyone at Bryn Mawr Rehab Hospital pushed him to get better. It seemed like he started out as an infant and every week he would progress five years. It was nothing short of miraculous."
Following his discharge from Bryn Mawr Rehab Hospital in February 2012, Bob continued to receive outpatient therapy at the hospital. In the fall of that year he began "shadowing" the operations at a local Potbelly Sandwich Shop, and in February 2013 he had recovered enough that he could begin working part time at the restaurant chain's Bala Cynwyd location. He expects to go full time in the near future.
"When I see the therapists who first worked with me they are amazed at the progress I've made," he says. "All I can say to them is thank you, thank you, thank you. The people at Bryn Mawr Rehab Hospital gave me my life back."