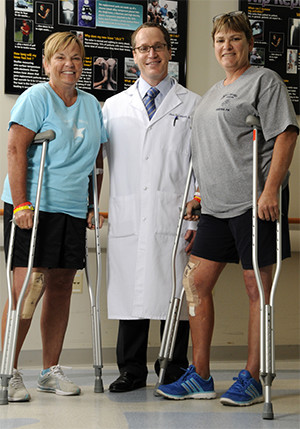 Ann Levandoski and Pamela Zbylicki, both of Scranton, are the types of sisters that can finish each other's sentences. Both gym teachers and four years apart, the two have always had a close bond and preferred to do things as a team rather than separately, which meant parties, holidays, and, recently, partial knee replacement surgery.
"I'd had knee problems for years, and I always blamed it on the fact that I played high school sports," explains Ann, who played volleyball and basketball and also been a skier. "I had been getting injections in my knee and although the pain had gone away, the swelling never did completely. It got to the point where my doctor said I needed to go see an orthopaedist."
After a consultation with an orthopaedist, Ann was told that injections would no longer be a solution to her knee pain, and that a partial knee replacement would be an ideal and permanent solution to her problem. At the same time, her sister was dealing with a similar situation.
"I had noticed some knee pain during gym class; getting down on the ground with the students, getting on the scooters and especially when I was getting back up," says Pamela of her knee pain. "I had seen a physician here for injections in my knee, and he talked about partial knee replacement surgery, but I thought, at 53, it was too soon."
However, after cortisone injections proved to be ineffective in preventing Pamela's knee pain any longer, she began to consider the idea of a partial knee replacement more and more.
Ann contacted the Rothman Institute, which had cared for her niece after she suffered a sports injury in high school, and made joint appointments for the sisters to meet with Dr. Jess Lonner, an orthopaedic surgeon at the Rothman Institute at Bryn Mawr Hospital.
During their appointment, Dr. Lonner took X-rays of both women's knees and compared them side-by-side. The differences were almost indistinguishable.
"He pulled up both of our X-rays and told us he wanted us both to see how much our knees looked alike," says Ann of the meeting. For Pamela, it was an eye-opener.
"I expected for my sister's knee to be bad, but I never expected mine to be in the same condition when I saw the X-ray," says Pamela.
"Ann and Pamela presented with relatively common form of arthritis that was limited only to the inside of their knees," explains Dr. Lonner. "The remarkable part of their cases,though, was how similar their X-rays were and how much their knees looked alike when the joints were exposed during surgery."
After viewing the X-rays, they decided to undergo partial knee replacement surgery together, a decision Dr. Lonner explained could contribute to a faster and easier recovery.
"Given their patterns of arthritis, young ages and need to get back to work in relatively short time as Physical Education teachers, Pamela and Ann were perfectly suited for this procedure," he says.
On Thursday, June 28, Ann and Pam both underwent partial knee replacement surgeries at Bryn Mawr Hospital. They had few questions after surgery, except for, of course, "How is my sister?"
Now, a little over one month later, both are back on their feet and working with a physical therapist three times a week, and have already begun to notice significant progress.
"I've already begun to walk up the stairs, and it's only been two weeks since my surgery," says Ann of her recovery.
Once the school year starts, they both fully expect to be back in the gym and on the job, minus the knee pain.
Of their decision to choose Dr. Lonner and the Rothman Institute at Bryn Mawr, Pamela says, "We were originally going to have the surgery done somewhere closer to home, but my daughter said to me, 'Mom, you've always gotten the best care for us. Why wouldn't you do the same for you?'"