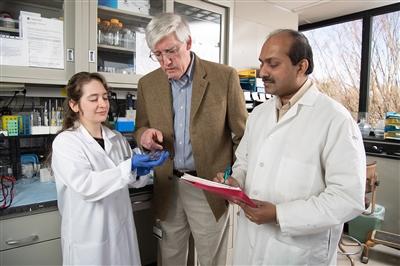 Three investigators at the Lankenau Institute for Medical Research (LIMR), the research division of Main Line Health, were awarded a U.S. patent for a new therapeutic approach to prevent or treat inflammatory bowel disease (IBD) and tauopathies including Alzheimer's disease.
IBD is an autoimmune disorder that significantly affects an individual's quality of life by causing abdominal pain, weight loss, fatigue and frequent diarrhea, among other symptoms. The Centers for Disease Control and Prevention estimates that about three million Americans have been diagnosed with some form of IBD. The condition often affects people between the ages of 15 and 30, although it can arise at any time of life. Those diagnosed with UC currently are prescribed anti-inflammatory drugs and immune suppressors whose unpleasant side effects, such as opportunistic infections and lack of efficacy in certain individuals, limit treatment quality.
Alzheimer's disease (AD), affecting about 5.7 million Americans, is a progressive brain disorder that causes dementia. AD is the fifth leading cause of death for those age 65 and older, according to the Alzheimer's Association. The disease is associated with the formation of plaques in the brain that lead to nerve cell destruction there. The damage usually starts in areas of the brain that are needed for memory and learning, leading to symptoms such as memory loss, confusion, changes in behavior, and ultimately, physical changes such as problems with speaking, swallowing and walking. Currently, there is no cure for AD.
"Finding an effective therapeutic approach to prevent or treat these debilitating disorders is a high priority in biomedical science worldwide," said George Prendergast, PhD, president and CEO of LIMR and one of the investigators awarded the new patent. "Our new approach targets a gene product called Bin1 that was originally discovered and studied by scientists at LIMR and found more recently to be one of the most important genetic risk factors in developing Alzheimer's disease. Our work also links it to IBD, an intriguing connection given emerging evidence of gut-brain crosstalk in neurological disease. Accordingly, a Bin1-targeting approach offers a provocative opportunity to treat both of these common and debilitating diseases."
Ulcerative colitis research
LIMR researchers studied experimental mice that develop the most common form of IBD called ulcerative colitis (UC), administering to them a specific antibody they developed to target the Bin1 protein.
"The animals treated with the Bin1 antibody showed diminished signs of UC, while those that were left untreated did demonstrate signs of UC," said James Mullin, PhD, LIMR professor and one of the patent-holders. "We found that our Bin1 antibody appeared to decrease the expression of several inflammatory agents in the colon."
But that wasn't the only beneficial impact of the antibody. Sunil Thomas, PhD, research assistant professor at LIMR and one of the investigators awarded the new patent, noted that the antibody also appeared to prevent formation of lesions in the colon in part by stopping the rupture of lymphoid follicles, a condition often seen in UC. Lymphoid follicles, which are present in lymph glands throughout the body and are an important part of the immune system, contain lymphocytes, cells that hunt and destroy invading organisms such as bacteria and viruses.
"By helping to improve the integrity of the lymphoid follicles, the antibody triggered a beneficial immune-stimulating effect in our preclinical studies," said Dr. Thomas.
Neurodegenerative disease research
As noted above by Dr. Prendergast, human genetics studies have identified Bin1 as one of the highest risk factors for late-onset AD (LOAD), by far the most common form of this neurodegenerative disease. Neurology studies indicate that Bin1 binds and influences the turnover of tau as a likely mechanism in promoting LOAD risk.
According to Dr. Thomas, LIMR's Bin1 antibody appears to promote tau turnover to block its expression and cellular deposition. The deposition of tau in the brain is widely believed to lie at the root of AD and other diseases. The natural features of tau proteins make them susceptible to stick together and form threads that eventually join to form tangles inside nerve cells. The proliferation of such tangles, which is a telltale sign of AD, blocks nerve cells' transport systems that, in turn, disrupts their ability to communicate with other neurons.
The Bin1 antibody developed by LIMR scientists was found to exert anti-tau effects in both cell culture and animals prone to tauopathies and AD-like disease.
Other tauopathies that may benefit from Bin1 antibody include, for example, ALS/parkinsonism-dementia complex, Creutzfeldt-Jakob disease, frontotemporal dementia, myotonic dystrophy, Niemann-Pick disease, Pick's disease, and Huntington's disease, among several others. Thus, it is possible that therapeutic targeting of Bin1 may have broad use in treating human disease.
"We're very excited about the therapeutic possibilities we've been able to demonstrate with our Bin1 antibody in preclinical studies done to date," noted Dr. Prendergast. "We look forward to working with biopharmaceutical firms to help advance this potential new treatment option to clinical trials."
This research was funded by the Janssen Research Foundation, the Wawa Foundation, and the Women's Board of Lankenau Medical Center. U.S. patent #10,494,424, "Methods and compositions for the treatment of diseases and disorders," was issued on December 3, 2019.