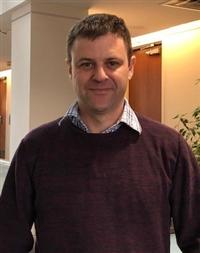 The Lankenau Institute for Medical Research (LIMR), the research division of Main Line Health, welcomed Gilad Margolis, MD, of the division of cardiology at Tel Aviv Medical Center who will serve a two-year fellowship at LIMR and Lankenau Medical Center.
Dr. Margolis is the second fellow named to the Lankenau-Israel Strategic Alliance (LISA) program, which was launched in 2017.The program's mission is to develop collaborations between physicians and scientists at Lankenau Medical Center and medical centers in Israel. Under the umbrella of the Israel Heart Society, the program fosters mutually beneficial cardiology research.
Dr. Margolis was awarded a medical degree from Tel Aviv University and trained in internal medicine at Tel Aviv Medical Center where he was board-certified in 2015. He completed his clinical fellowship in cardiology and then was appointed senior clinical consultant in cardiology at Tel Aviv Medical Center. He was selected to participate in the LISA program by the Israel Heart Society via a nationwide competition.
"We are honored to welcome Dr. Margolis to LIMR and look forward to working with him to help advance both his cardiology training and our own research initiatives," said Charles Antzelevitch, PhD, executive director of cardiovascular research at LIMR and director of research, Lankenau Heart Institute, who helped to initiate the LISA program.
Dr. Margolis will spend the first year of his LISA fellowship in a basic science training program, working with Dr. Antzelevitch and his research team at LIMR. Some of the research in which he will participate will include studies to determine:
Why patients with cancer are prone to developing atrial fibrillation and how best to treat them
Mechanisms leading to inherited J wave syndromes and therapies to prevent sudden cardiac death in these patients.
The second year of his fellowship will be devoted to clinical training in electrophysiology under the direction of Douglas Esberg, MD, of the Lankenau Heart Group, as well as Peter Kowey, MD, of the Lankenau Heart Institute and LIMR and one of the developers of the LISA program.
"Lankenau is known for being a leader in cardiac care delivery and research, so I am thrilled to help advance the work being done here," said Dr. Margolis. "I look forward to collaborating with Main Line Health researchers and clinicians in their important work of diagnosing and treating cardiovascular disease."
In addition to Drs. Antzelevitch and Kowey, the LISA initiative was developed by Mark Cohen, a member of Lankenau's President's Advisory Council, and Dr.Michael Glikson, past president of the Israel Heart Society. The program is being funded by Mr. Cohen and other local donors, along with Lankenau Medical Center and the Israel Heart Society.