Joanne Glusman, MSW, LSW, APHSW-C, one of six finalists in the country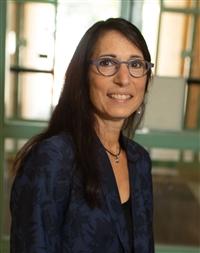 Joanne Glusman, MSW, LSW, APHSW-C, a clinical social worker at Bryn Mawr Hospital, part of Main Line Health, has been named as a finalist for the 2019 National Compassionate Caregiver of the Year® (NCCY) Award. Glusman, a member of the palliative care team and an off-shift crisis social worker, is one of six finalists from across the country, all of whom are health care professionals working to make a profound difference through their unmatched dedication to compassionate care.
"I am honored to have been named a finalist this year, and to be in the company of such an incredible group of professionals," says Glusman. "It's incredibly meaningful to me that people who know me both professionally personally, as well as families with whom I have worked, thought to nominate me."
This year's award recipient will be announced on November 21, 2019 at the 24th Annual Kenneth B. Schwartz Compassionate Healthcare Dinner in Boston. More than 1,200 health care leaders, caregivers, supporters and others are expected to attend this event, which is co-chaired by Michael L. Blau, Partner, Foley & Lardner LLP; Michael Carson, president and CEO, Harvard Pilgrim Health Care; and Ann-Ellen Hornidge, Esq., board chair, Beth Israel Lahey Health.
"Joanne has been a devoted leader within Main Line Health for decades," says Barbara Wadsworth, chief nursing officer, Main Line Health. "She lives and breathes her work, and that is demonstrated each day in the feedback we receive from patients and families who rely on her support. Her compassion, unwavering dedication to our patients and their families, and her commitment to ensuring that every person across our health system—volunteers, staff, physicians, patients and visitors—feels safe, welcome, understood, cared for, and respected makes her the ideal candidate for such an award."
According to colleagues, patients and their families, Glusman has been impacting lives in many ways. Whether through her work on the palliative care team, as the off-shift crisis social worker, as faculty for the hospital's residency program, or as co-chair of the Main Line Health Diversity, Respect & Inclusion Council and Steering Committee member, her inherent empathetic nature shines through.
"I am so incredibly proud of Joanne and grateful to have her as a member of the Bryn Mawr Hospital team," says Andi Gilbert, president, Bryn Mawr Hospital. "Her skills and unique ability to connect with people are incredibly special and have had an immeasurable impact on our patients and families at Bryn Mawr Hospital over many years."
In addition to her role as a social worker, Joanne is an enthusiastic leader and advocate for Main Line Health's Diversity, Respect & Inclusion efforts. "Joanne is helping to educate each of the health system's 10,000 employees on creating a respectful and inclusive environment for patients and staff. She has also been a driving force in the creation of LGBTQ Inclusive Care at Main Line Health—a specialized program that offers highly competent care for LGBTQ patients and their caregivers," says Jack Lynch, president and CEO, Main Line Health.
Glusman's passion and spirit are not only palpable and inspiring in her work at Main Line Health, but also within the community. Joanne is dedicated to mentoring LGBTQ youth through the Main Line Youth Alliance, providing social, educational and supportive activities in a confidential, respectful and safe environment.
The NCCY Award program was created by the Schwartz Center in 1999 to honor outstanding health care professionals who display extraordinary devotion and compassion in caring for patients and families. Finalists are chosen by a national review committee, which includes past award recipients, in collaboration with representatives from the American Diabetes Association, the American Heart Association/American Stroke Association, and the National Hospice and Palliative Care Association.
More information about the award is available at theschwartzcenter.org/award. Information about the dinner is available at theschwartzcenter.org/dinner.