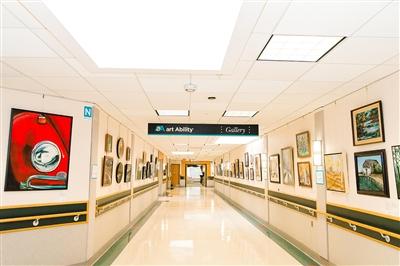 Main Line Health's Bryn Mawr Rehab Hospital launched its 24th annual Art Ability Exhibition and Sale with an opening Preview Event on Saturday, November 2. More than 500 attendees enjoyed the creative works of 185 artists with physical, cognitive, and visual disabilities.
The 24th Annual Art Ability Exhibition and Sale features over 450 works of art by artists from 31 states and three countries in such mediums as jewelry and fine crafts, sculpture, mixed media and photography as well as works on canvas and paper. During the event, guests mingled with exhibiting artists and purchased a variety of unique, one-of-a-kind works throughout the evening. This year's featured artist, Carol Spiker of Wilmington, DE, was paralyzed as a result of a serious car accident, but considers herself one of the lucky ones, and art has become a driving force in her life, a focus that has sharpened even more after her accident.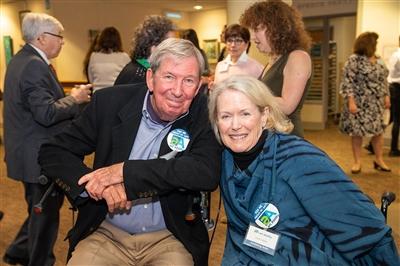 "Art provides therapy in so many ways," said Gaby Heit, Art Ability curator. "Our exhibiting artists find therapy in their studio practice, and the art gallery experience at Bryn Mawr Rehab is very uplifting and therapeutic for our patients. With the diversity and number of artwork on display, it is quite an impressive collection."
The program supports Main Line Health's mission and vision and provides advocacy for artists with disabilities by advancing their artistic and financial success.
For the third year, the event also included a dinner and auction, which was attended by 300 guests. Following an inspiring story by patient Alexandria Warner and her mother, Sue Levy Giles, guests generously contributed $122,850 in support of two specialized pieces of therapy equipment.
The 12-week exhibition is free and open daily to the public from 9:00 am to 5:00 pm through January 2020. All works are for sale, and a percentage of the funds raised through the sale of artwork supports Bryn Mawr Rehab Hospital's nationally-recognized rehabilitation programs while 80 percent of the sale goes directly to the artist. To view and purchase art, please visit bidpal.net/artability19.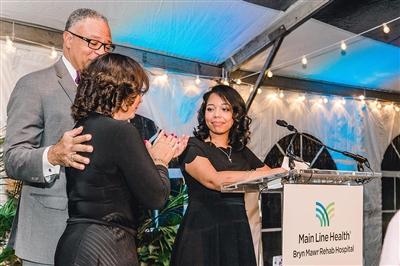 In addition to the 12-week annual exhibition, Bryn Mawr Rehab Hospital, a member of Main Line Health, has a permanent collection of more than 400 pieces of artwork on display throughout the year. "Every day, our clinicians incorporate Art Ability into their treatment plans, challenging and inspiring our patients to stretch beyond their limitations and achieve their goals. I am so very proud of this program, what is has achieved, and what the future holds," commented Donna Phillips, Bryn Mawr Rehab Hospital president.
The success of 2019 Art Ability Preview Event is thanks to the outstanding work of the hospital's Foundation Board, along with many philanthropic partners and donors. Dollars raised not only support the goals and mission of the Art Ability program, but other top priorities within the hospital. For more information about Art Ability, including group tours, please contact 484.596.5614 or visit mainlinehealth.org/artability.