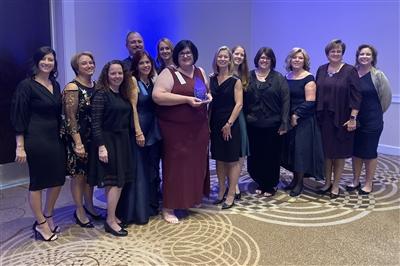 Main Line Health nurse Joyce Foresman-Capuzzi of Lankenau Medical Center, has been named a winner of the 2019 Nightingale Awards of Pennsylvania in the Nursing Education – Staff Development category. Additionally, Tara Sweeney of Paoli Hospital, was named a finalist in the category of Community Nursing. They were honored at the 30th Annual Nightingale Awards Gala earlier this month in Harrisburg, Pennsylvania.
"I am so incredibly proud of Joyce and Tara for their remarkable work that has led their colleagues to nominate them for these awards," says Barbara Wadsworth, chief nursing officer, Main Line Health. "This honor signifies their role and the remarkable contributions these nurses make to Main Line Health and to the nursing profession each day. Special congratulations to Joyce for winning the award of her overall category. Both Tara and Joyce are truly deserving of this incredible recognition for their continuous dedication to our patients and our community members."
The Nightingale Awards of Pennsylvania is a statewide, non-profit foundation created to help recruit and retain nursing professionals. Nightingale acknowledges outstanding nurses through scholarships and awards. Over the past 30 years, Nightingale has provided close to 200 nursing scholarships totaling over $330,000 and has honored over 550 Pennsylvania nurses at its annual gala.