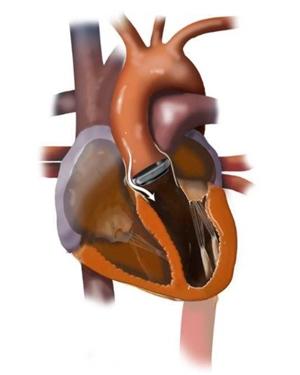 Among 636 patients who underwent surgical aortic valve replacement (SAVR) at Lankenau Heart Institute between 2006 and 2016, only 1.4 percent developed intraoperative paravalvular leak (PVL), according to a new study. That incidence of intraoperative PVL is one of the lowest reported in the literature, noted the study's authors.
PVL, an abnormal leak around a patient's prosthetic valve, may lead to heart failure, reoperation or death.
During the study, minimally invasive aortic valve replacement was performed in 410 (64.5 percent) of the 636 patients. In the cohort of 410 patients, postoperative PVL incidence was 4.4 percent at one year in the patients who had sutures that were hand-tied. Meanwhile, among patients who underwent suture tying with Cor-Knot, an automated suture-fastener, the cumulative incidence of postoperative PVL was lower: 1.9 percent at one year.
In this retrospective study, the authors also found that renal failure was a factor significantly associated with postoperative PVL.
"The study is important because it demonstrates the incidence of paravalvular leak in a large contemporary series of SAVRs in the transcatheter era," said Konstadinos Plestis, MD, the study's senior author.
Vishal Shah, DO, fifth year general surgery resident at Lankenau and the study's lead author, noted that the hospital has been at the forefront of minimally invasive cardiac surgery over the past decade. "By publishing our excellent outcomes, we hope to demonstrate that minimally invasive aortic valve replacement is safe and reproducible, particularly with the use of innovative technology," said Dr. Shah.
The study, "Incidence, Natural History, and Factors Associated with Paravalvular Leak Following Surgical Aortic Valve Replacement," was published in the October issue of the biomedical journal Innovations: Technology and Techniques in Cardiothoracic and Vascular Surgery, the official journal of the International Society for Minimally Invasive Cardiothoracic Surgery.
Other Main Line Health authors included Scott Goldman, MD; Matthew Thomas, MD; and Serge Sicouri, MD; as well as Meghan Buckley, MS, biostatistician at the Lankenau Institute for Medical Research.
Disclosure: Dr. Shah reports receiving research funding from LSI Solutions, the manufacturer of Cor-Knot.