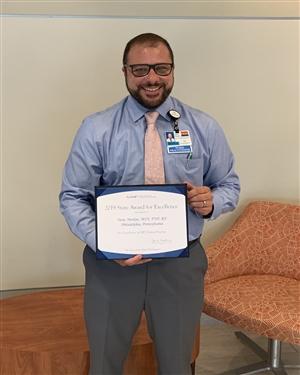 Dane Menkin, CRNP, divisional director of LGBTQ services at Main Line Health, has been named recipient of the 2019 American Association of Nurse Practitioners® Pennsylvania State Award for Nurse Practitioner Excellence. This prestigious award is given annually to a dedicated nurse practitioner (NP) and NP advocate in each state. Recipients were honored at an awards ceremony and reception held during the AANP 2019 National Conference, held on June 18–23, in Indianapolis.
"I am honored to receive this recognition from the American Association of Nurse Practitioners of Pennsylvania," says Dane Menkin, CRNP. "As a family nurse practitioner for more than 12 years, it's been my passion to bring gender-affirming care to children and adolescents, as well as provide specialized care to people living with HIV. This recognition demonstrates the commitment of the AANP to the delivery of inclusive care to our patients and community members."
The State Award for NP Excellence, founded in 1991, recognizes an NP in each state who demonstrates excellence in practice. In 1993, the State Award for NP Advocate Excellence was added to recognize the efforts of individuals who have made a significant contribution toward increasing awareness and recognition of the NP role. Menkin was chosen for his clinical excellence, compassion and dedication to LGBTQ care.
Menkin, who joined Main Line Health in 2019, previously worked at an LGBTQ Health Center in Philadelphia for 10 years. He has been faculty at Georgetown University and Simmons University, teaching advanced health assessment and ethics in health care. He is a member of the Board of Directors for The Jim Collins Foundation, a national non-profit organization which awards grants for applicants to access gender affirming surgeries. Menkin is also a contributor to the TransLine, a national e-hotline which provides free advice to clinicians treating transgender patients by direct collaboration and correspondence. He has helped develop nationally recognized guidelines for transgender care and is a member of WPATH.
At Main Line Health's Bryn Mawr Family Practice, Menkin is a clinician and part of a multidisciplinary team providing high quality LGBTQ care to children, adolescents and adults. Menkin also serves as the Divisional Director of LGBTQ Services for Main Line Health, helping the team to implement a system-wide, six-hour curriculum teaching providers and staff LGBTQ-specific clinical management and competencies as part of the LGBTQ Inclusive Care at Main Line Health.