Lankenau Institute for Medical Research (LIMR), part of Main Line Health, recently expanded its expertise in cancer studies and population health research with the addition of two new investigators.
Marie Webster, PhD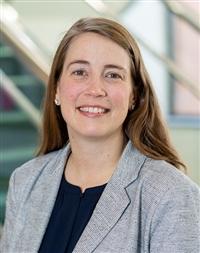 Dr. Webster is a cancer researcher who is working to elucidate how cancer cells change their character to gain the ability to metastasize and create therapeutic resistance. She received her PhD in pharmacology and molecular sciences from the Johns Hopkins University School of Medicine. Prior to her appointment at LIMR, she conducted postdoctoral research at the Wistar Institute in Philadelphia, after which she was appointed a staff scientist, focusing on understanding how the tissue microenvironment of a tumor changes to enable metastatic development and treatment resistance.
"With tremendous enthusiasm we welcome Dr. Webster to LIMR's resident faculty," said George Prendergast, PhD, president and CEO of LIMR. "Her expertise in gene expression mechanisms that drive changes in the tumor microenvironment and enable metastatic progression represents a leading edge of research in the field. I am delighted by the prospects of the contributions of her work to our program in cancer research, which is sure to have a great impact on LIMR and its mission to advance human health."
Since 2004, Dr. Webster has been a lead author and co-author of 19 original research reports published in leading peer-reviewed scientific journals, including Nature, Cancer Discovery and Clinical Cancer Research. She is a member of the American Association for Cancer Research and the Association for Women in Science.
In advancing her important work, Dr. Webster was awarded a prestigious K99/R00 career development award from the National Cancer Institute, the next phase of which will be pursued through her new appointment at LIMR.
Kyle McGregor, PhD
Dr. McGregor joined the Main Line Health Center for Population Health Research (CPHR) at LIMR. His interests include empirical research ethics, data analytics, and adolescent health and development. He is an expert in research methodology, focusing much of his efforts on the ethical use of unstructured data related to highly vulnerable populations.
Dr. McGregor completed his PhD on a National Center for Advancing Translational Sciences Award at Indiana University. As a PhD candidate he also completed a fellowship in clinical ethics at the Charles Warren Fairbanks Center for Medical Ethics. He conducted his postdoctoral training in medical informatics at Yale University as a National Library of Medicine postdoctoral fellow. After leaving Yale he completed a second postdoctoral fellowship in the SAFE Lab at Columbia University.
Prior to joining CPHR, he served as director of pediatric mental health ethics at NYU Langone Health, New York City, where he was an assistant professor of child and adolescent psychiatry and population health.
"Dr. McGregor brings to LIMR's population health research team a unique perspective that combines data science, social work, adolescent health, and technology use and innovations in health care that can identify crucial needs within our community and propose potential solutions," said Sharon Larson, PhD, executive director of CPHR. "We are thrilled to welcome him."
Since 2014, Dr. McGregor has been a lead author and co-author of studies that have been published in leading peer-reviewed publications, including Pediatrics, Journal of the American Medical Informatics Association, Ethics & Human Research, and Social Science Computer Review. He is a member of the Society for Adolescent Health and Medicine and an ethics committee member for the American Medical Informatics Association.