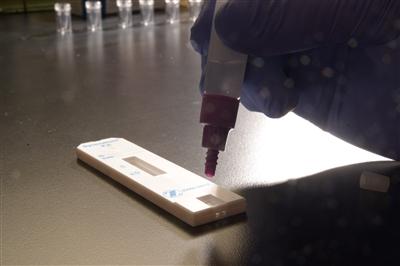 For the first time a test that can aid in the detection of an infection in the synovial fluid surrounding a patient's joint replacement has been authorized by the U.S. Food and Drug Administration (FDA). The Synovasure Alpha Defensin Lateral Flow Test Kit was developed by Carl Deirmengian, MD, an orthopedic surgeon in the Rothman Institute at Main Line Health and a clinical assistant professor of the Lankenau Institute for Medical Research (LIMR).
Previously, there were "no FDA-authorized diagnostic tests specifically designed to help health care professionals determine whether the inflammation around a prosthetic joint was due to an infection or another cause," stated Tim Stenzel, MD, PhD, director of the Office of In Vitro Diagnostics and Radiological Health in the FDA's Center for Devices and Radiological Health.
In the United States, approximately 700,000 knees and 400,000 hips are replaced every year, according to the American Academy of Orthopedic Surgery. While most of the surgeries provide pain-free function, some patients experience ongoing pain or complications and require more surgery. One reason for revision surgery is periprosthetic joint infection (PJI), which involves the joint prosthesis and adjacent tissue. PJI can be masked by other inflammatory disorders such as gout, arthritis or non-infectious loosening of implants, making accurate diagnosis difficult. Until now.
The Synovasure Alpha Defensin Lateral Flow Test Kit is the first diagnostic test authorized by the FDA that can assist clinicians in determining if the inflammation around a joint replacement is due to PJI. Knowing the exact cause of a patient's inflammation can help clinicians appropriately treat failed prosthetic joints and reduce patient risk.
"We are thrilled that the FDA has authorized the diagnostic test, which demonstrated excellent performance in the clinical trial," said Dr. Deirmengian. "Our goal was to provide surgeons with a more consistent and standardized approach to diagnose infection, which can both improve patient care and reduce health care costs."
The test, which can detect PJI in 10 to 20 minutes, was developed by Dr. Deirmengian while his company, CD Diagnostics (later acquired by Zimmer Biomet), was incubated at LIMR.
While most previous strategies attempting to diagnose PJI aimed at trying to detect the pathogen, Dr. Deirmengian started looking instead at the characteristics of the patient's immune response. Experiments completed in his LIMR lab showed that alpha defensin, a protein released by white blood cells that have been activated in response to infection, was an ideal biomarker for PJI. His team devised a test that could pinpoint alpha defensin in joint-surrounding synovial fluid.
"Our discovery 15 years ago that the white blood cells in a joint have a signature response to infection was a critical finding in the eventual development of the alpha defensin test," said Dr. Deirmengian.
Before the FDA authorized Synovasure, regulators reviewed results from a clinical trial that analyzed 305 synovial fluid samples prospectively collected from individuals with a total knee or hip joint replacement and who were being evaluated for revision surgery. The study showed that 89.5 percent of subjects with an infection diagnosis based on standard-of-care criteria also were identified as positive for alpha defensin by the Synovasure Lateral Flow Test Kit.
George Prendergast, PhD, president and CEO of LIMR, congratulated Dr. Deirmengian and his team for their stellar achievement. "We are so proud of the role LIMR played in incubating Dr. Deirmengian's technology and company in their very earliest stages," said Dr. Prendergast. "Here at LIMR we employ a hybrid academic and entrepreneurial culture—we call it 'acapreneurial'—that organizes biomedical research so as to better leverage its transformative potential."
A central element of LIMR's acapreneurial model is the integration of a biotechnology start-up company incubator located side-by-side with laboratory and clinical researchers seeking to move their discoveries to the clinic. This innovative approach has enabled the launch of several biotechnology companies, including Dr. Deirmengian's CD Diagnostics. Moreover, LIMR's scientists have been awarded many patents for their innovations in health care. To learn more about LIMR's technology development, visit mainlinehealth.org/limrtech.