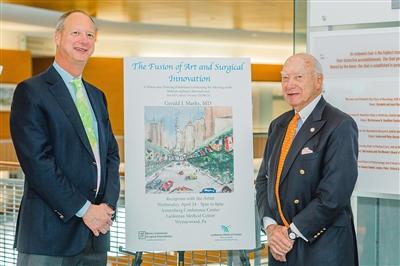 On April 24, Lankenau Medical Center, part of Main Line Health, hosted an art exhibit demonstrating the fusion of art and surgical innovation. The featured artist, Gerald Marks, MD, colorectal surgery, professor and chairman, Marks Colorectal Surgical Foundation, is known for his colorectal surgical pioneering, and for his watercolor paintings that chronicle his international travels.
"My art is really focused on recalling moments, people, places and events that evoke the memories of my travels as a surgeon and artist," says Dr. Marks.
This intersection of art and surgical innovation highlights Lankenau Medical Center's minimally invasive colorectal surgical and robotics program, which is the largest in the region. Having performed thousands of procedures at Lankenau Medical Center, Dr. Gerald Marks and his son, John Marks, MD, have pioneered significant breakthroughs that are now considered worldwide standards of care for colorectal cancer care.
Patients come to the Colorectal Center at Lankenau Medical Center from around the world to receive minimally invasive laparoscopic and robotic-assisted colorectal surgery. Traditional treatment approaches would leave patients facing the need for a permanent colostomy, yet with minimally invasive techniques performed by the Lankenau team, patients are often able to avoid this measure altogether. The goal of the team is always to spare colon and sphincter function with little to no scarring, which means better outcomes and higher quality of life for patients after surgery.
For more information about the Colorectal Center at Lankenau Medical Center, visit mainlinehealth.org/specialties/colorectal-center.