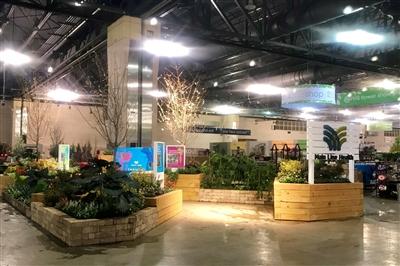 Main Line Health will be a presenting sponsor and featured exhibitor at the Philadelphia Flower Show, taking place from March 2–10, 2019 at the Pennsylvania Convention Center. The theme of the exhibit is "Cultivating Wellness from the Ground Up," and will featuring elements from the Delema G. Deaver Wellness Farm at Lankenau Medical Center, the Sydney Thayer III Horticultural Therapy Center at Bryn Mawr Rehab Hospital, the Healing Garden at Mirmont Treatment Center and integrative therapies across the health system.
"Main Line Health is thrilled to be showcasing our holistic treatment approach at this year's Philadelphia Flower Show," says Barbara Wadsworth, DNP, RN, Chief Nursing Officer, Main Line Health. "Through these innovative programs, we are not only using healthy foods and flowers in preventive medicine and therapy, but we are educating patients about the healing power of plants, aromatherapy, hand massage and Reiki and their effect on the mind, body and spirit."
The 26-by-38-foot exhibit will incorporate 25 different types of plants, and will feature a sensory garden, organic produce and herbs. The exhibit will also offer hands-on demonstrations by members of the Main Line Health team.
The Delema G. Deaver Wellness Farm: In collaboration with Greener Partners, Lankenau Medical Center has taken the progressive step of planting and maintaining a year-round, half-acre organic farm that includes over two dozen raised garden beds, a greenhouse, educational areas and tasting stations. The Wellness Farm distributes its produce to patients and neighborhood residents to emphasize the role of healthy foods in preventative care—making Lankenau Medical Center one of only a few hospitals in the U.S. to integrate its bounty into patient care and community education.
The Horticultural Therapy Center: The Sydney Thayer III Horticultural Center at Bryn Mawr Rehab Hospital is a state-of-the-art facility with cathedral ceilings, skylights and a large greenhouse that radiates peace and beauty. Patients in horticultural therapy enjoy activities like starting seeds; watering or repotting plantings; working with fresh flowers; arranging, drying and pressing flowers; and when the weather permits, outdoor gardening.
The Healing Garden: As part of the holistic approach to treating drug and alcohol addiction, the Healing Garden at Mirmont Treatment Center offers a peaceful haven for our patients on their road to a successful recovery. Healing gardens play an integral role in helping individuals improve their mental health. Even the tiniest of natural spaces is known to help provide patients with the reprieve they need. The Healing Garden is designed as a quiet, nurturing space where individuals can sit and contemplate life or talk quietly with loved ones and supporters. At Main Line Health, we promote the well-being of our patients in mind, body and spirit as an important part of their healing process.
For more information about our exhibit, visit mainlinehealth.org/flowershow.