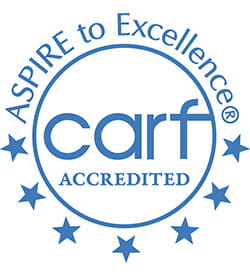 Bryn Mawr Rehab Hospital, part of Main Line Health, has been accredited for a period of three years by the Commission on Accreditation of Rehabilitation Facilities (CARF).
This accreditation decision represents the highest level of accreditation an organization can receive and indicates the organization's substantial compliance with CARF standards.
"In January, a team of surveyors visited the Bryn Mawr Rehab Hospital campus and we successfully demonstrated our commitment to offering programs and services that are measurable, accountable, and of the highest quality," said Donna Phillips, president, Bryn Mawr Rehab Hospital. "This accreditation reflects the commitment to excellence shown by all our staff and volunteers to our patients and the community."
For more information about Bryn Mawr Rehab Hospital, go to mainlinehealth.org/specialties/rehab.