Bryn Mawr Hospital, part of Main Line Health, celebrated yesterday the official ribbon cutting of the new 256,418-square-foot, eight floor patient pavilion, which will offer patients and families a more spacious, enhanced design that is focused on patient comfort and healing. The new pavilion boasts a new labor and delivery unit, maternity unit, critical care units, as well as 12 fully-equipped, state-of-the-art operating rooms.
"As the largest investment and most significant facility improvement in our campus' history, and the second largest in Main Line Health's history, this is a tremendous moment for our organization and a fantastic way to cap off the celebration of Bryn Mawr Hospital's 125th year as a premier destination for care in the Philadelphia region," says Andrea Gilbert, president, Bryn Mawr Hospital. "I want to express my deepest and most sincere thanks to the every member of the team who was involved in the conception, design, construction and operation of this new building. Together, we are ensuring that Bryn Mawr Hospital will be here to provide exceptional care for generations to come."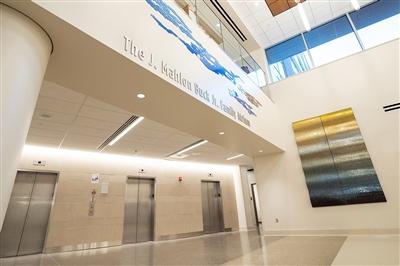 A decade in the making, the Bryn Mawr Hospital patient pavilion is part of the hospital's modernization project, which is helping to raise the bar for patient rooms across the entire campus. Double occupancy rooms have all been converted to private rooms and many inpatient areas of the existing hospital have been renovated and modernized.
"It is because of the vision and leadership of Bryn Mawr Hospital's administration, physician and nursing leaders, the support of our Main Line Health and Bryn Mawr Hospital Foundation Boards, and the generosity of our community partners, that this building has come to fruition," says Jack Lynch, president and CEO, Main Line Health. "As a community hospital, Bryn Mawr is dedicated to helping our community get well and stay well—just as we have for the past 125 years. With the addition of this incredible pavilion, and the healing environment within it, this facility now rivals the advanced, high-quality care that is delivered by our team within these walls each day."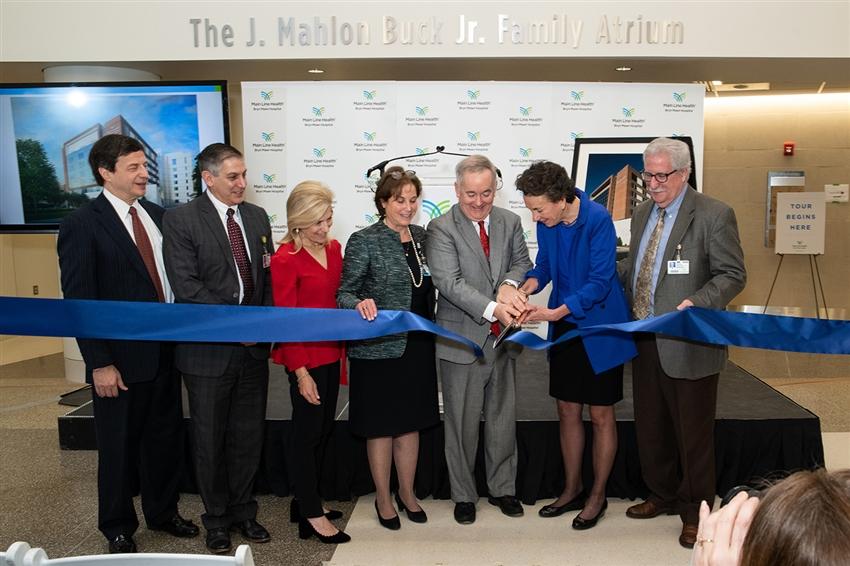 View photos from the patient pavilion ribbon cutting (Google Photos)
In addition to Main Line Health and Bryn Mawr Hospital senior leaders, physicians, staff and volunteers, the event was attended by many of Bryn Mawr Hospital's community partners and elected officials. A formal program was held, and included remarks from Andrea Gilbert, president of Bryn Mawr Hospital; Don Miller, MD, Bryn Mawr Hospital campus medical staff president; Dave Rose, MD, Bryn Mawr Hospital campus chief of the department of surgery; Daniel Bernheim, Esq., president of the Lower Merion Township Board of Commissioners; Susan Selverian, Bryn Mawr Hospital Foundation Board chair; Betsy Balderston, chair of the Main Line Health Board of Governors; and Jack Lynch, president and CEO of Main Line Health.