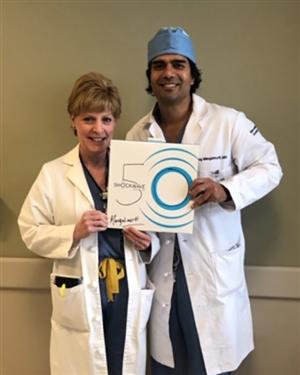 Main Line Health has enrolled the highest number of patients in the observational arm of the Disrupt PAD III clinical trial. To date, 60 patients with femoropopliteal disease have been enrolled in the international study of the Shockwave Medical Peripheral Lithoplasty® System, which is an FDA-approved balloon catheter that, once inserted in the calcified vessel, emits pulses that gently break up the plaque. This allows subsequent dilation of the peripheral artery stenosis using lower balloon pressure, and hopefully more effective expansion without as many dissections.
Additionally, Main Line Health has enrolled 11 patients in the randomized study section of this trial, although that arm has been put on hold temporarily while the device undergoes an upgrade to offer more energy delivery per pulse and more pulses per treatment. William Gray, MD, system chief of the cardiovascular division at Main Line Health, is the national principle investigator for this trial.
"We are very pleased to be the leading site nationwide among 21 medical centers currently using the Shockwave system," said Sarang S. Mangalmurti, MD, an interventional cardiologist at Bryn Mawr Hospital and Main Line Health's principal investigator on the trial. "This minimally invasive novel treatment may improve angioplasty results in patients with complex peripheral vascular disease and reduce the need for surgical bypass."
Main Line Health has been enrolling patients in the observational study for almost one year and in the randomized study since June 2017. Patients who did not meet the inclusion/exclusion criteria for the randomized study were enrolled in the observational study. That said, all patients in the clinical trial were treated with the Shockwave system. The objective of the observational study is to assess the real-world acute performance of the device.
Lynn Sher, MBA, clinical research coordinator for the study, noted, "Offering this option to our patients enables Main Line Health to stay at the leading edge of treatments for those diagnosed with stenosis of the peripheral arteries."
She added that Main Line Health soon will be recruiting patients for another study of the Shockwave device, this time in patients with complex coronary artery disease.
Clinicians interested in learning more about the Disrupt PAD III study, which is taking place at Bryn Mawr Hospital and Lankenau Medical Center, can read more at mainlinehealth.org/research/clinical-trials/disrupt-pad-iii.