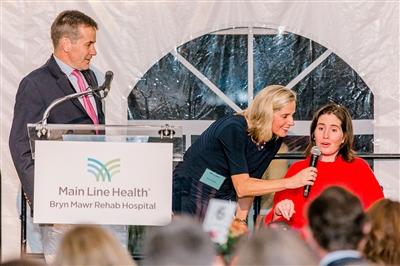 Main Line Health's Bryn Mawr Rehab Hospital launched its 23rd annual Art Ability Exhibition and Sale with an opening Preview Party on Saturday, November 3. More than 400 attendees enjoyed the creative works of 180 artists with physical, cognitive, and visual disabilities.
The 23rd Annual Art Ability Exhibition and Sale features over 400 works of art by artists from 31 states and six countries in such mediums as jewelry and fine crafts, sculpture, mixed media and photography as well as works on canvas and paper. During the event, guests mingled with exhibiting artists and purchased a variety of unique, one-of-a-kind works throughout the evening. An elaborate array of food stations and passed hors d'oeuvres were enjoyed while musicians added to the creative atmosphere. This year's featured artist, Maureen Collins of Wilmington, DE, was diagnosed with Guillain-Barré syndrome many years ago and has used art as a way to help in her healing process.
"Art Ability at Bryn Mawr Rehab Hospital is a year-long program which serves as a showcase for, and celebration of, artists with disabilities," said Gaby Heit, Art Ability curator. "Art Ability focuses our appreciation on the artists' astounding creativity and artistic ability rather than their disability."
For the second year, the event also included a dinner and auction, which was attended by nearly 255 people. Following an inspiring story by patient Lee Lee Jones and her parents, guests generously contributed $85,900 making possible the purchase of a new patient transportation van as well as support for other hospital priorities.
The 12-week exhibition is free and open daily to the public from 9:00 am to 5:00 pm through January 2019. All works are for sale. A percentage of the funds raised through the sale of artwork support Bryn Mawr Rehab Hospital's nationally-recognized rehabilitation programs while 80 percent of the sale goes directly to the artist. To view and purchase art, please visit bidpal.net/artability18.
In addition to the 12-week annual exhibition, Bryn Mawr Rehab Hospital, a member of Main Line Health, has a permanent collection of over 400 objects on display throughout the year and often clinicians integrate the artwork into therapy sessions with patients. Art Ability supports Main Line Health's vision and mission and provides advocacy for artists with disabilities by advancing their artistic and financial success.
Art Ability is generously supported by the hospital's Foundation Board, many philanthropic partners and individual donors. This generosity helps to make the annual exhibition possible and provides program support year-round for the many facets of Art Ability. For more information about Art Ability, including group tours, please contact 484.596.5614 or visit mainlinehealth.org/artability.