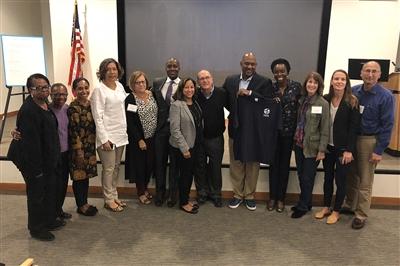 Congressman Dwight Evans of Pennsylvania's 2nd Congressional District in the U.S. House of Representatives demonstrated his continued support for Together for West Philadelphia, a community partnership of organizations across the Philadelphia region dedicated to ensuring that equitable care and opportunity is accessible to all. The group held their Fall Retreat for board members and community partners on October 6 at Lankenau Medical Center, part of Main Line Health.
Congressman Evans originally showed his support of Together for West Philadelphia at their inaugural dinner, held this past February at Lankenau Medical Center, by signing the group's charter, which states that its key objectives are to:
Foster development of an alliance to enable stakeholders from a variety of associations to collaborate on projects for the benefit of the West Philadelphia community and to leverage resources within the collaborative in order to develop and advance comprehensive and sustainable programs of greater impact
Leverage learnings, evidence-based methodologies and best practices from similar collaboratives (in the region and nationally) in order to efficiently replicate and appropriately scale practical solutions for the community
"Each of our community partners came together this past weekend to learn more about the assets and needs in the West Philadelphia communities, and then discussed projects associated with each area of focus the group is dedicated to, including health equity, education, food justice, housing, employment, and senior wellbeing," said Barry Mann, MD, chief academic officer, Main Line Health. "We are thankful for Congressman Evans' ongoing support of our mission, and we're honored that he could join us for this retreat."
Along with Main Line Health, Together for West Philadelphia's community partners include Spectrum Health, The Food Trust, ACHIEVEability, Mercy Philadelphia, The Urban League, Drexel University, Friend's Central School, Children's Hospital of Philadelphia, Philadelphia College of Osteopathic Medicine, University of the Sciences, The Links, Inc., Leon H. Sullivan Charitable Trust, Villanova University, Independence Blue Cross, Rosemont College, Saint Joseph's University, Aramark and the Chester Charter School for the Arts, Netter Center for Community Partnerships, University of Pennsylvania, and Episcopal Community Services.