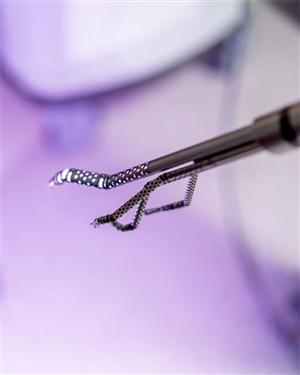 Lankenau Medical Center, part of Main Line Health, is among the first three hospitals in the United States—and the first in Pennsylvania—to receive the new Intuitive Surgical single-port platform, the da Vinci® SP Surgical System. The latest generation of the da Vinci robot provides surgeons with robotic-assisted technology designed for deep and narrow access to tissue in the body through a single, small incision. This technique helps surgeons perform more complex procedures with greater precision and confidence.
"Being one of three medical centers in the nation to pioneer this new da Vinci robot is in line with Main Line Health's long history of embracing new surgical technology. Our surgeons are early adopters of robotic and minimally invasive surgical advances with the goal of continually improving outcomes and quality of life for our patients," says Phil Robinson, president, Lankenau Medical Center.
"It has been incredibly exciting to have been chosen to help forge a path for this innovative technology," says John Marks, MD, chief of colorectal surgery, Main Line Health and consultant in the design of the da Vinci SP Surgical System. "I predict that this new tool has the potential to markedly improve patient outcomes, as it will enable surgeons to access narrow openings while maintaining high-quality vision, precision, and control—all through a single, one inch incision."
Currently, the SP robot is FDA-approved for urologic surgeries, with plans to submit for FDA approval for colorectal and ENT procedures early next year.
Dr. Marks adds, "I believe this new technology has the potential to usher in a whole new generation of treatments for patients with both benign and malignant disease, improve surgical outcomes and allow for quicker patient recovery."
Main Line Health's legacy of excellence in minimally invasive and robotic procedures makes it a destination for patients seeking advanced surgical options. Lankenau Medical Center, in particular, is a leading institution in performing robotically assisted CABGs and colorectal surgeries in the United States. The da Vinci SP Surgical System will expand Main Line Health's ability to reach a wider array of patients who may benefit from this emerging technology.
"Main Line Health has a steadfast commitment to providing superior care to all in our communities, and the addition of this new da Vinci robot will help us to do just that," adds Jack Lynch, president and CEO, Main Line Health. "Intuitive's selection of Lankenau as a leading site to receive this new technology is incredibly fitting, as Lankenau and Main Line Health have truly emerged as global leaders of several robotic and minimally invasive procedures, serving as a training destination for surgeons from around the world."
For information about Main Line Health's minimally invasive and robotic surgery program—with convenient locations across Main Line Health—visit mainlinehealth.org/robotics.