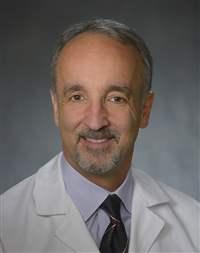 William A. Gray, MD, system chief of the division of cardiovascular disease at Main Line Health and president of Lankenau Heart Institute, led an international, 65-site clinical trial that found that a new type of peripheral arterial stent is significantly more effective than the prior standard of care.
The results were presented simultaneously at the annual Transcatheter Therapeutics meeting in San Diego by Dr. Gray and in Lisbon at the annual Cardiovascular and Interventional Radiological Society of Europe meeting, and concurrently published in the prestigious medical journal The Lancet.
The researchers sought to determine how well arteries in patients' lower extremities were held open one year after receiving one of two different types of stents to treat blockages that caused leg pain when walking. The blockages result from cholesterol plaques of these arteries that, when they become severe, can restrict blood flow to the leg muscles. The condition occurs in patients who have been diagnosed with peripheral artery disease (PAD). Stents are commonly used to restore and maintain blood flow in patients with PAD, reducing their symptoms and improving quality of life.
Both arterial stents tested in the clinical trial were treated with the medication paclitaxel, which targets and inhibits the excessive scar tissue that can form inside the stent in some patients and cause a recurrent blockage. The Zilver PTX stent, an FDA-approved device used in U.S. patients since 2012, delivers paclitaxel in a burst-like dose that subsides rapidly in the months following implantation, thereby diluting the treatment's benefit over time. The new stent, called Eluvia, delivers paclitaxel in a sustained-release fashion over a much longer period of time and thus better matches the biological timing of the prevention of scar formation.
Dr. Gray and colleagues found that this longer-term formula resulted in significantly better and more durable outcomes in trial participants receiving Eluvia stent. And after one year, the Eluvia stent patients needed only half the repeat procedures to clear recurrent blockage when compared to those who received the Zilver PTX stent.
Based on the strength of this trial's results, the FDA approved the Eluvia stent for general use two days after the presentations and publication.
"We believe rigorous clinical trials such as this one truly advance the field and help to answer questions that have eluded us—namely, how to safely and effectively improve patients' arterial patency over time," noted Dr. Gray, who also serves as a clinical professor of the Lankenau Institute for Medical Research, the research division of Main Line Health. "This is the first such head-to-head trial in this field, and as such is a landmark study format that we hope will be followed by others in the future."
In all, 465 patients from seven countries participated in the clinical trial, including eight patients at Main Line Health. All had been diagnosed with PAD. Trial participants were randomized into one of two study groups: One group received the Zilver PTX stent (Cook Medical); the other received the Eluvia stent (Boston Scientific).
After one year, patient outcomes showed that both stents passed safety tests, in that there were few major adverse events, and patients in both groups reported improved walking ability. Moreover, both stents improved the patency of patients' leg arteries, with the Eluvia stent showing an almost 10 percent improvement over the Zilver PTX stent.
"We think these findings will help to advance the overall care of patients and give clinicians more data that can help them make better decisions for their patients," noted Dr. Gray.
His co-principal investigator for the clinical trial was Stefan Muller-Hulsbeck, MD, of the Diako Hospital in Flensburg, Germany. The study was funded by Boston Scientific. The researchers' results were published in the manuscript "A polymer-coated, paclitaxel-eluting stent (Eluvia) versus a polymer-free, paclitaxel-coated stent (Zilver PTX) for endovascular femoropopliteal intervention (IMPERIAL): a randomised, non-inferiority trial," available online in The Lancet.