Main Line Health dominates rankings with four of the top 10 spots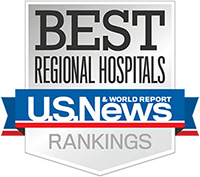 (Bryn Mawr, Pa.) – Main Line Health's four acute care hospitals—Lankenau Medical Center, Bryn Mawr Hospital, Paoli Hospital and Riddle Hospital—have been recognized among the top 10 hospitals in the Philadelphia region, and the top 20 hospitals in Pennsylvania, in U.S. News & World Report's Best Hospitals rankings for 2018–19. The annual Best Hospitals rankings, now in their 29th year, are part of U.S. News' patient portal, designed to help patients make informed decisions about where to receive care for life-threatening conditions or for common elective procedures.
"I am incredibly proud of the entire Main Line Health team for their contributions to this year's U.S. News & World Report rankings," says Jack Lynch, president and CEO, Main Line Health. "This achievement is a reflection of the unwavering dedication, professionalism, care and compassion of our physicians, clinicians, employees and volunteers across the system. As U.S. News & World Report's list continually demonstrates, the advanced technology and clinical care provided at Main Line Health places us among an elite group of hospitals within the Philadelphia region and across the state of Pennsylvania."
For the 2018–19 rankings, U.S.News evaluated more than 4,500 medical centers nationwide in 25 specialties, procedures and conditions. In rankings by state and metro area, U.S. News recognized hospitals as high performing across multiple areas of care. Main Line Health's acute care hospitals were ranked as high performing in five adult specialties, including: gastroenterology & GI surgery, geriatrics, orthopaedics, pulmonology and urology. They were also ranked high performing in seven common adult procedures and conditions, including: aortic valve surgery, colon cancer surgery, heart bypass surgery, heart failure, hip replacement, knee replacement and lung cancer surgery.
The U.S. News methodologies include risk-adjusted survival and readmission rates, volume, patient experience, patient safety, quality of nursing care and other care-related indicators. Best Hospitals was produced by U.S. News with RTI International, a leading research organization based in Research Triangle Park, North Carolina. For more information about the 2018–19 rankings, please visit the U.S. News FAQ page. The rankings will be published in the U.S. News "Best Hospitals 2018" guidebook.