Cycling fever is set to pedal back into Ardmore this summer! Following the massive success of last year's inaugural event, Narberth Ambulance is proud to announce the return of the Main Line Bike Race on Sunday, August 12 from 8:00 am to 4:00 pm. Main Line Health will serve as the race's official presenting sponsor.
The six corner criterium-style competition consists of dozens of laps around a one-mile loop through Ardmore's business district along Lancaster and Ardmore avenues, School Lane, Cricket and East Athens avenues and Rittenhouse Place. Last year, spectators lined the sidewalks as hundreds of cyclists competed in the race, which also features a community ride/race for children, a food donation drive and a variety of community-focused activities throughout the day.
Proceeds from the event will benefit Narberth Ambulance. Medical equipment, training and emergency preparedness become more expensive each year. Narberth Ambulance is a 501(c)(3) organization, meaning it relies on donations and the support of the nearly 145,000 residents it serves in Lower Merion, Narberth, Haverford, Conshohocken and West Conshohocken. It needs their support to maintain the high level of life-saving services and state-of-the-art equipment they expect in a time of need.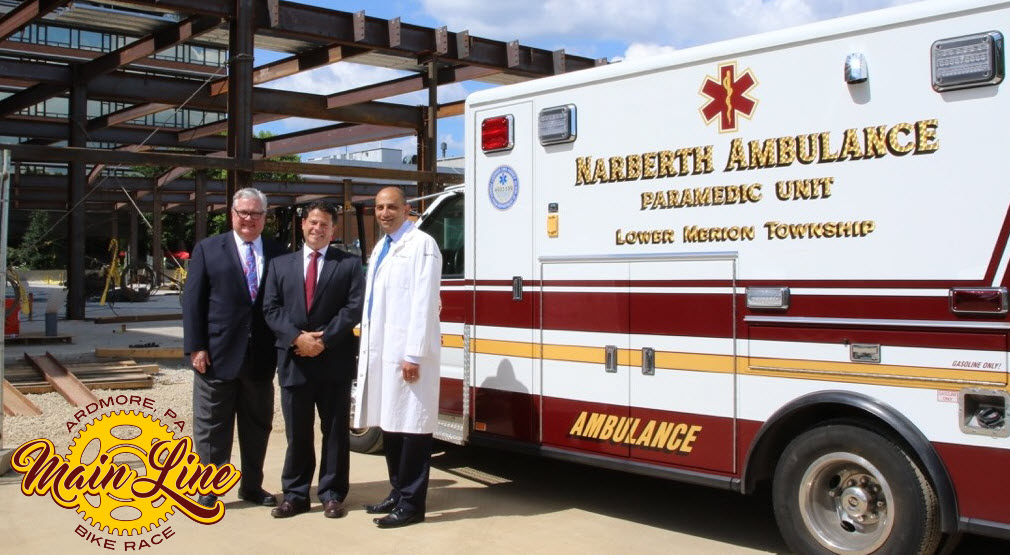 "Main Line Health is proud to support our community partner, Narberth Ambulance," said Phillip D. Robinson, president, Lankenau Medical Center, part of Main Line Health. "Working together, we are committed to the health and well-being of the Main Line community. This is especially true as we complete the first phase of the new and expanded emergency department and trauma center at Lankenau Medical Center. This construction project, as well as our partnership with Narberth Ambulance, will ensure that superior patient care continues to be available to our community whenever it is needed."
"We are extremely proud to have a world class health system like Main Line Health as the presenting sponsor for this year's race," said Narberth Ambulance President David R. Zaslow. "Our first responder crews partner every single day with the professionals at Main Line Health to save lives and to protect the health and welfare of the communities we serve. Main Line Health's sponsorship demonstrates the strength and importance of our relationship."
"We are so thrilled to have Main Line Health's support at this year's race," said Narberth Ambulance Executive Director, John Roussis "Our two organizations already share a common goal of creating better health outcomes in the community. It's great to see that partnership extend to the race course, too."
Lower Merion Township, the Ardmore Business Association, and many others will also play an important role in ensuring the event's success.
"We appreciate everyone who comes out and supports the bike race," said Narberth Ambulance Chief, Christopher B. Flanagan. "From our presenting sponsor, Main Line Health, to the businesses and other organizations returning from last year's event, to the fans who cheered on our athletes from the sidelines—thank you so much. We couldn't do it without you."
Online race registration is due by Friday, August 10 at 7:00 pm. To register or for more information, visit mainlinebikerace.com.