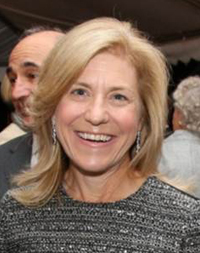 The Bryn Mawr Hospital Foundation, part of Main Line Health, has elected Susan Selverian as board chair. She is the first woman in Bryn Mawr Hospital's history to hold this position. Selverian replaces Andy Reder, who has served on the board for the past 11 years, including three years as board chair.
"We are honored to have an outstanding community leader and long-time supporter of Bryn Mawr Hospital step into this role for our Foundation and the hospital," said Andi Gilbert, president, Bryn Mawr Hospital. "It is also a milestone for our hospital and the Foundation, as Susan is the first woman to hold this significant position. Her insights and expertise will add depth to our already distinguished Board of Trustees and enhance the continued success of our hospital and the community we serve."
Selverian has been involved with the Bryn Mawr Hospital Foundation since 2008. She was a Foundation trustee from 2008 through 2016 and has been a member of numerous committees, including the Gerhard Society, Campaign Planning and Campaign Leadership. She has also hosted Foundation Board events, including Capital Campaign cultivation events, both locally and in Palm Beach, Fla.
Selverian is a member of the Aronimink Golf Club Women's Committee and the Wake Forest University Parent's Council.
Bryn Mawr Hospital is celebrating its 125th anniversary this year. The Foundation recently completed a four-year capital campaign, spearheaded by Campaign Chair Richard C. Ill, that raised $32 million for its new Patient Pavilion, scheduled to open early 2019. Selverian served as a campaign vice chair.
Editor's Note: Selverian resides with her husband Michael in St. Davids, Pa.