To close out Pride Month, Main Line Health held an official ribbon cutting last week for LGBTQ Inclusive Care–a highly specialized primary and preventative care program for the lesbian, gay, bisexual, transgender and queer/questioning community, from childhood through senior years. LGBTQ Inclusive Care providers have undergone specific training to understand the unique needs of the LGBTQ community and to provide highly competent care.
"Our LGBTQ Inclusive Care program will help to address disparities in care within the LGBTQ community, and will deliver culturally competent care for their unique health care needs in a comfortable, respectful environment," says Jack Lynch, FACHE, president and CEO, Main Line Health. "I am incredibly proud of our team for their commitment to bringing this program to life, and for making it their steadfast mission to create an environment where everyone can receive the care they need and deserve, and feel respected and included while doing so."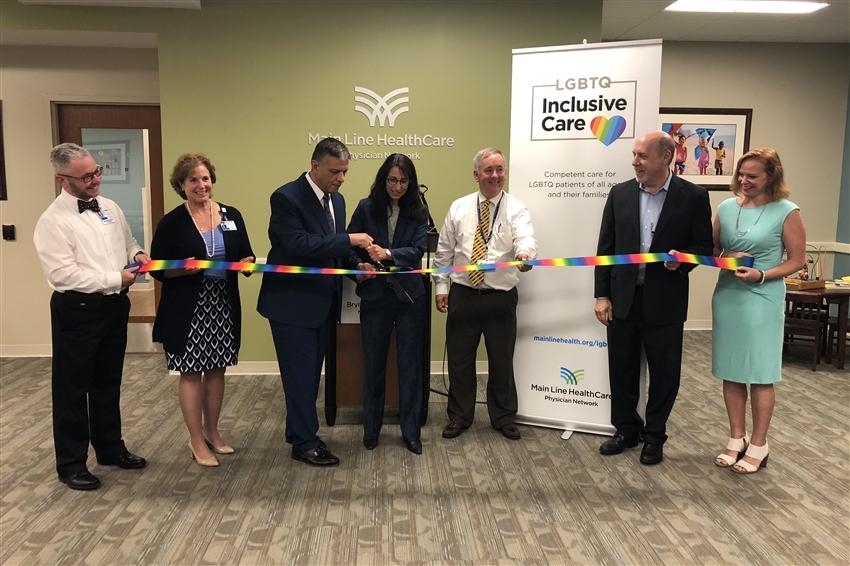 In January 2013, Main Line Health launched a Diversity, Respect & Inclusion initiative across the system, and has since then made it a core value of the organization, along with safety, communication, compassion, excellence, innovation, integrity and teamwork.
LGBTQ Inclusive Care is launching at two locations at Main Line Health—Bryn Mawr Family Practice and Main Line HealthCare Family Medicine in Paoli. As Main Line Health continues to expand upon its Diversity, Respect & Inclusion efforts, the list of practices that will be designated as LGBTQ Inclusive Care providers will continue to grow.
For information about LGBTQ Inclusive Care, visit mainlinehealth.org/lgbtq. Patients can also call a confidential, secure phone line to leave a message for the program coordinator, at 484.337.LGBT (5428).