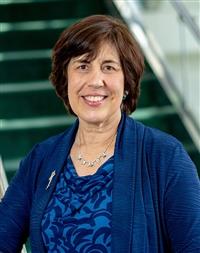 Susan Gilmour, PhD, a professor and principal investigator at the Lankenau Institute for Medical Research (LIMR), part of Main Line Health, was named deputy director. Her tenure will begin July 1.
Janet Sawicki, PhD, who held the deputy director's position for the past nine years, will retain her role as a principal investigator at LIMR.
Dr. Gilmour, who has been at LIMR since 1990, is a cancer researcher well known for her work on polyamines, a class of nutrients for which all cancers have a voracious appetite. Recognized as a leader in this field, she was elected by her peers worldwide to chair the 2017 Polyamines Gordon Conference. Throughout her career, her overarching goal has been to translate her basic research findings into therapies that can contribute to increased survival in cancer patients.
Her latest work led to the discovery of a novel polyamine-blocking therapy that boosts the immune response against cancers. This new line of research builds on LIMR's pioneering work in the field of immunometabolic therapies for cancer treatment—an area that is contributing to the explosion of promising results using immunotherapies as new tools to eradicate previously incurable cancers.
"Dr. Gilmour has been a faculty leader at LIMR for many years, and we are thrilled for her to step into the role of deputy director," said George Prendergast, PhD, president and CEO of LIMR. "Her extensive experience in grant funding, scientific collaboration and inventions will be applied in broader directions to help advance the institute's mission."
Dr. Gilmour earned a bachelor's degree in biology at the University of Virginia where she was also a member of the first women's varsity crew team. She earned her PhD in toxicology and pharmacology from Rutgers University/University of Medicine and Dentistry, followed by a postdoctoral fellowship in molecular carcinogenesis at The Wistar Institute in Philadelphia. In addition to her roles at LIMR, she is a member of the Sidney Kimmel Cancer Center at Thomas Jefferson University and is an adjunct professor of pathology at Drexel University where she regularly mentors students in her lab.
Dr. Gilmour noted, "I am excited about my new responsibilities here at LIMR, and I plan to expand my efforts to strengthen research at LIMR and to be of service to the institute and to Main Line Health. At the same time, I know I join everyone at LIMR in thanking Dr. Sawicki for her service to the institute."
For more than 26 years, Dr. Gilmour's research has been supported by funding from the National Institutes of Health (NIH). She also has received multiple additional grants including those from the US Department of Defense (DOD), Boehringer Ingelheim, the W.W. Smith Charitable Trust, and the Sharpe-Strumia Research Foundation. She has served on numerous study sections to review grants for both NIH and DOD. And her research has been published in many peer-reviewed publications, including Cancer Research, Oncotarget, and Cancer Immunology Research.
For more on Dr. Gilmour and her research, visit her researcher profile.