New health center to serve as destination for health and wellness of women, in collaboration with Axia Women's Health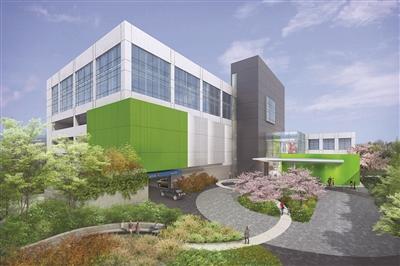 Main Line Health broke ground last Thursday, June 7, on Main Line Health King of Prussia, home of the new Women's Specialty Center, in collaboration with Axia Women's Health. The $32 million, 94,000-square-foot facility, slated to open in the fall of 2019, will serve as a premier destination for enhancing the health and wellness of those in our region, specifically women.
"Our focus at Main Line Health—and our primary focus throughout the planning of this new health center—is on delivering safe, high-quality care that can help advance the health and wellness of our community members," says Jack Lynch, FACHE, president and CEO, Main Line Health. "As never before, our patients are increasingly looking to us not just to help them live longer lives, but to help them live longer, healthier lives. This facility will help our community do just that."
Located within the building, Main Line Health and Axia Women's Health are working together to establish the Women's Specialty Center, which will focus on the distinct preventive, diagnostic and treatment needs of women. The center will address women's physical, emotional and wellness needs in a seamless, coordinated manner embedded within a warm, healing environment. Some of the services include:
Breast health services
Digestive health
Heart and vascular care
Infertility services
Integrative medicine
Obstetrics and gynecology
Pelvic floor care
Rheumatology and autoimmune treatment
Skin care
Weight management
Emotional wellness
And more
"This Women's Specialty Center is a big step forward in the vision of Axia Women's Health," says Dr. Stephen Krell, executive chairman and CEO, Clinical Practices for Axia Women's Health. "It will help us lead the way in improving women's health by bringing together a full suite of health care services in one state-of-the-art facility—the first of its kind in the region."
Also located within the new facility, Main Line Health will operate an ambulatory care center that will bring health and wellness services to women and men of the greater King of Prussia region and beyond, including:
Primary care
Cardiology and cardiac testing
Endocrinology
Neurology
General surgery
Orthopaedics
Imaging
Physical therapy
Lab services
In addition, nutrition services, a demo kitchen and a medical retail space will be offered.
Main Line Health and Axia Women's Health are partnering with the following legal, construction and design organizations: Saul Ewing, IMC Construction, Anchor Health Properties, Siemens, Nelson Architects, Bohler Engineering, Pisarek Engineering, O'Donnell & Naccarato, Remington & Vernick Engineers, Perkins Eastman Black and Glackin Thomas Panzak.