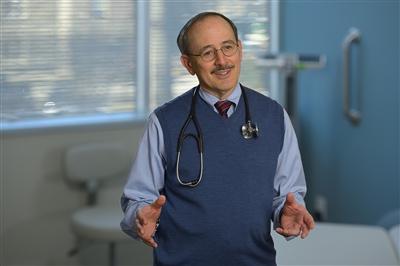 Main Line Health is pleased to announce that Robert P. Denitzio, MD, is joining Main Line Health as an integrative and functional medicine physician. He comes to Main Line Health from Jennersville Hospital where he practiced family medicine.
Dr. Denitzio, who has been practicing medicine for more than 34 years, developed an interest about 10 years ago in the promise of alternative forms of medical care to address important factors that influence health, particularly nutrition, lifestyle, exercise, environmental exposures and stress. He pursued training and certification in integrative medicine, as well as a foundation in the emerging field of functional medicine.
Board-certified in integrative medicine, Dr. Denitzio earned his medical degree from Georgetown University School of Medicine, completed his residency in family medicine at United Hospital Center, West Virginia University School of Medicine, and completed his fellowship in integrative medicine at the University of Arizona Center for Integrative Medicine. He is a member of the Academy of Integrative Health & Medicine and the American Academy of Family Practice.
Dr. Denitzio sees patients six years of age and older, and works in conjunction with primary care physicians (PCPs) to optimize health and wellness through individualized healing, risk reduction and self-care strategies. He has convenient office hours, including evenings, in Suite 100 at Main Line Health Concordville, 1020 Baltimore Pike, in Glen Mills.
To make an appointment with Dr. Denitzio call 484.227.7858. For more information about the practice, including services offered, visit mainlinehealth.org/integrativemedicine.