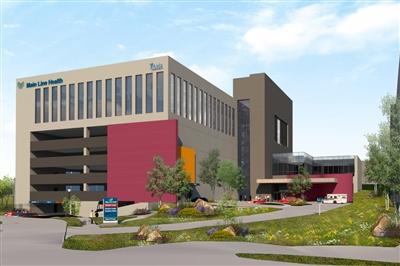 Main Line Health is planning to build a health center in King of Prussia, which will serve as a premier destination for enhancing health and wellness for community members, specifically women. Located within the 94,000 square-foot facility, Main Line Health and Axia Women's Health will partner to establish and operate a specialty care center focused on the distinctive preventive, diagnostic and treatment needs of the female population.
"The foundation of Main Line Health's mission is to deliver safe, high-quality health care services to our community members," says Jack Lynch, FACHE, president and CEO, Main Line Health. "With a focus on women's health, this health center will allow us to expand our breadth of services to include a wide range of holistic therapies and specialty care services to meet the needs of women and their families across our region."
The women's health-focused center will serve as a distinctive destination to address women's physical, emotional and wellness needs in a seamless, coordinated manner embedded within a warm, healing environment. Some of the services provided specifically for women will include:
Women's primary and specialty care services – Rheumatology and autoimmune services, digestive health care, headache and neurology, healthy aging and gerontology, heart and vascular care, endocrinology, primary care, obstetrics and gynecology, menopause and midlife center, pelvic floor care, reproductive endocrinology and infertility services
Life enrichment services – Women's emotional wellness, including individual and group counseling and post-partum depression care; comprehensive weight management; integrative medicine and mindfulness therapies, including acupuncture and Reiki
Breast health – Mammography, ultrasound, biopsy and surgical consults
Skin care – Dermatology, esthetics, and plastic surgery consults
Also located with the new facility, Main Line Health will operate an ambulatory care center that will bring health and wellness services to men and women of the greater King of Prussia community, including primary care, cardiology and cardiac testing, endocrinology, neurology, general surgery, orthopaedics, imaging, physical therapy and lab services.
In addition, a child watch area, parenting support services, nutrition services, a demo kitchen and a medical retail space will be offered.