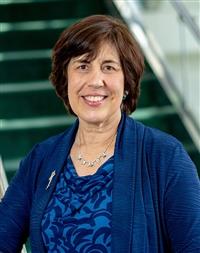 A research team at the Lankenau Institute for Medical Research (LIMR), part of Main Line Health, has further characterized a cellular mutation that leads to a certain type of melanoma. Armed with that information, the team developed a novel treatment that, in preclinical studies, killed those particular melanoma tumor cells. An estimated 91,000 people in the United States will be diagnosed with melanoma in 2018, according to the American Cancer Society, and about 9,300 are expected to die from the disease this year. And while melanoma accounts for less than one percent of all skin cancer cases, it causes the vast majority of skin cancer deaths.
LIMR Professor Susan Gilmour, PhD, and her team found that the uptake of polyamines, small molecules that have been shown to promote the growth and survival of cancer cells, is elevated in melanoma tumor cells that express a mutant BRAF protein, a mutation that is found in over half of all melanoma tumors. The research team found that melanoma tumor cells harboring the mutant BRAF protein are more dependent on polyamine uptake for their survival, compared to normal cells or melanoma tumor cells with a wild type BRAF protein.
While currently available therapeutic agents that block the mutant BRAF protein are initially effective in treating most patients with mutant BRAF melanoma, the tumors grow back in almost 100 percent of patients within a few months. Dr. Gilmour and her team set out in their study to try to find a more effective treatment for those melanomas.
"We looked for an alternative approach to treating mutant BRAF melanoma, and we focused on another cellular pathway that the tumor cells need to survive," said Dr. Gilmour. "Specifically, we found a way to target the transport system that brings polyamines into the tumor cells, thus cutting off the tumors' life line."
Gilmour's team evaluated the sensitivity of mutant BRAF melanoma tumor cells to a novel aryl-polyamine (AP) drug, synthesized by Otto Phanstiel, PhD, a medicinal chemist at the University of Central Florida. Utilizing an innovative approach, the researchers used the polyamine transport system itself to successfully deliver the AP drug into tumor cells.
In preclinical studies they found that the AP drug preferentially entered and killed mutant BRAF melanoma cells compared to cells with a wild type or normal BRAF protein. Exploiting the dependence of mutant BRAF melanoma cells on polyamine uptake, the team discovered that co-treatment with their AP drug significantly boosted the sensitivity of mutant BRAF melanoma tumor cells to BRAF inhibitors, thus overcoming the resistance of mutant BRAF melanoma cells to a BRAF inhibitor.
Molly Peters and Allyson Minton in Dr. Gilmour's lab contributed to the study whose results were published in the manuscript "A Novel Polyamine-Targeted Therapy for BRAF Mutant Melanoma Tumors" in a special issue on polyamines in the journal Medical Sciences. The full manuscript is available at mdpi.com.
This research is currently funded by a grant from the U.S. Department of Defense. Dr. Gilmour's cancer research has also been funded for more than 25 years by grants from the National Institutes of Health.