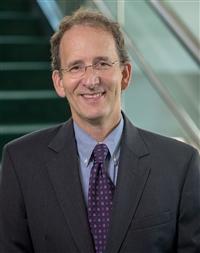 Officials at the Lankenau Institute for Medical Research (LIMR), part of Main Line Health, are pleased to announce that Scott Dessain, MD, PhD, a professor at LIMR and a cancer clinician at Lankenau Medical Center, has been named by the Lankenau Medical Center Foundation as The Joseph and Ray Gordon Chair in Clinical Oncology and Research. An endowed chair is a distinguished position that is bestowed upon an exceptional leader and provides ongoing support to advance his or her field.
The Gordon Chair was created through the combination of a $1 million gift from leading benefactors Joseph and Ray Gordon and their philanthropic arm, The Gordon Charter Foundation. Their contributions were matched by a $1 million grant from the Lankenau Medical Center Foundation through its $1 million+ matching initiative.
"The 10 donor-endowed chair positions we now have at Lankenau Medical Center serve to recognize our drive to provide exceptional, innovative health care solutions to our patients and to our community," said Phil Robinson, president, Lankenau Medical Center. "The Joseph and Ray Gordon Chair in Clinical Oncology and Research will help to advance critical cancer investigations at Lankenau for generations to come."
Joseph Gordon and his wife, Ray, were true guiding lights of the modern era of Lankenau Medical Center. Though they have both passed, Ray in 2011 and Joe in 2015, they left an indelible mark on the Lankenau community. Notably, they provided innovative and astute leadership, combined with a generous philanthropic spirit toward the Medical Center and LIMR over the course of nearly 40 years of volunteer service to both institutions. A longtime emeritus member of the Lankenau Board of Trustees, including a stint as its chairman, Mr. Gordon also served as the Chairman of the Main Line Health Board of Trustees from 1988 to 1998. Mr. Gordon recognized the strategic benefits of Lankenau and Bryn Mawr Hospital joining forces, and he played a critical role in the complex negotiations that resulted in the formation of Main Line Health in 1985 with the addition of Paoli Hospital one year later.
The Joseph and Ray Gordon Chair in Clinical Oncology Research supports a unique hybrid clinical and research role. This endowed chair aims to translate cancer research from theory to practice—or from 'bench to bedside' as it is often called at LIMR. This was an idea supported by Mr. Gordon before his passing and championed now by his daughter Leila, a Lankenau Foundation Trustee in her own right and the leader of The Gordon Charter Foundation with her siblings Scott and Hunter.
"I am honored to be recognized for my work and very grateful to The Gordon Charter Foundation and the Gordon family for this endowment," said Dr. Dessain. "Joe Gordon's innovative and inquisitive mind will serve as an inspiration to me and my team to keep striving to solve critical challenges in biomedical research."
Dr. Dessain's scientific interests include both oncology and immunology. In his clinical practice at Lankenau Medical Center, he treats patients with lung and blood cancers, and he teaches clinical oncology to medical fellows. In his LIMR laboratory, Dr. Dessain and his team pursue several research avenues to treat human disease, including cancer, neurological illnesses, polio and disorders triggered by bacterial toxins. All of his work builds on a powerful technology he developed to clone "native" human monoclonal antibodies that have special advantages—they have the highest affinity and specificity and are as safe and effective as antibodies created naturally in the body. In his career, Dr. Dessain's research has been funded by the National Institutes of Health, the World Health Organization, Bill and Melinda Gates Foundation and Sharpe-Strumia Research Foundation.