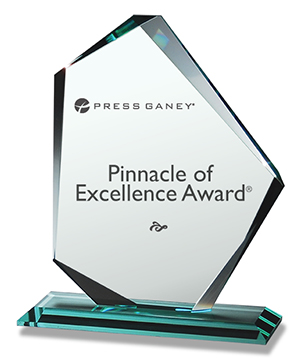 Paoli Hospital, part of Main Line Health, has once again been named a Pinnacle of Excellence Award winner in the area of patient experience by Press Ganey for 2017. This annual award is given to the top three performing organizations by category on the basis of extraordinary achievement. Paoli was recognized for maintaining consistently high levels of excellence in patient experience over the past three years.
Paoli Hospital was the recipient of the Press Ganey Pinnacle of Excellence Award in 2016, and previously received the Press Ganey Guardian of Excellence Award in 2014 and 2015 for reaching the 95th percentile in patient experience for each reporting period for the award years.
"It is an honor to once again be recognized by Press Ganey, the industry's leader in measuring, understanding and improving the patient experience," said Jim Paradis, president, Paoli Hospital. "This award exemplifies our commitment to high-quality clinical care and patient satisfaction and is a testament to the dedication of our employees and medical staff."
For more than 30 years, Press Ganey's mission has been to support health care providers in understanding and improving the entire patient experience. As a strategic business partner to more than 26,000 health care organizations, Press Ganey leads the industry in helping clients transform the patient experience and create continuous, sustainable improvement.
Award winners were recognized at Press Ganey's National Client Convention last week in Orlando, Florida.