Cheryl Kinderknech's "And Beneath It All" awarded Best in Show
On October 5th, three prestigious members of the Philadelphia art community came together and judged over 500 artworks by 236 artists from 35 states for the 2017 Art Ability Exhibition and Sale at Bryn Mawr Rehab Hospital, a member of Main Line Health.
This year's judges are A.M. Weaver, curator and writer, from Philadelphia; Nancy Campbell, executive director of the Wayne Art Center, Wayne, Pennsylvania.; and Amie Potsic, executive director and chief curator of Main Line Art Center in Haverford, Pennsylvania. There were seven prize categories defined by medium as well as by a special theme, "Transformation." In addition, each judge selected their favorite work and collaboratively they chose a "Best in Show." Winning artists will receive cash prizes ranging from $50 to $1,000. Through generous donations from members of the Bryn Mawr Rehab Hospital community, board and staff, Art Ability awards these prizes totaling over $7,000.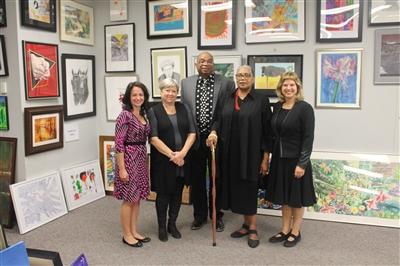 The judging process took a full morning of thoughtful discussion; taking into consideration the subject, composition and aesthetic of each piece. The judges commented on the caliber of work presented by Art Ability artists, and only after the judging was complete did the participants learn more about an artist's region, age or disability.
"I thought some of the works were very accomplished," says Nancy Campbell. "The variety was really exciting. I was very impressed. There was a lot of diversity; I was really amazed at how many different types of techniques were included in the show. I was also amazed by the craftsmanship."
In its twenty-second year, Art Ability will open with a Preview Reception on Saturday, November 4, 2017 at Bryn Mawr Rehab Hospital in Malvern. NEW THIS YEAR, the Preview Reception will be followed by a dinner and auction, starting at 7:30 pm. This will be a wonderful opportunity for guests to learn more about Bryn Mawr Rehab Hospital, while enjoying a festive evening with unique auction items. Purchase tickets for this event by contacting the Art Ability Office at 484.596.5425. Beginning Sunday, November 5, the Art Ability Exhibition and Sale will be open daily and is free to the public through January 28, 2018.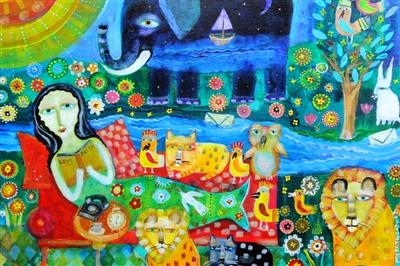 Art Ability is grateful to have the leadership support of many philanthropic partners, including Presenting Sponsor, Construction Services Group; Preview Reception Sponsor, Encore, a Quintiles Company; Dinner Sponsor Stradley Ronon; Auction Sponsor Bryn Mawr Rehab Volunteer Association; William Penn Foundation; and Pennsylvania Council on the Arts. The generosity of these supporters, and other philanthropic partners, helps to make the annual exhibition possible, as well as provides program support year-round for the many facets of Art Ability.
For more information about Art Ability 2017, including group tours and the Preview Reception, Dinner and Auction, please contact the Art Ability Office at 484.596.5607 or visit mainlinehealth.org/artability.