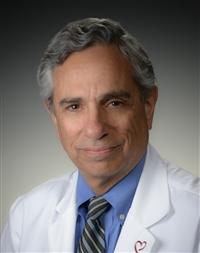 The incidence of undiagnosed atrial fibrillation (AFib or AF), a type of irregular heartbeat, may be greater than most physicians realize, according to a new study co-authored by Peter R. Kowey, MD, a world-renowned cardiologist at Lankenau Heart Institute in Lankenau Medical Center, and the William Wikoff Smith Chair in Cardiovascular Research at Lankenau Institute for Medical Research, both part of Main Line Health.
In a three-year, multi-center clinical study, Dr. Kowey and his colleagues showed that continuous monitoring of a previously undiagnosed at-risk population uncovered AFib in nearly 40 percent of patients. The results are significant because, in many patients, the symptoms of AFib are silent or minor.
"I'm beginning to think of atrial fibrillation as an epidemic," said Dr. Kowey. "Our population is aging and has many of the risk factors for the disease. We may be seeing the early signs of a perfect storm."
In the study, 385 undiagnosed at-risk patients were fitted with miniature implantable recording devices. The detection rate for AFib rose through the study's length. At 18 months, almost 30 percent of study participants were found to have AFib. After two years of wearing the device, 33 percent of participants were found to have AFib.
"We know that AFib is a progressive disease," said Dr. Kowey. "As such, it seems appropriate to suggest that aggressive monitoring of at-risk populations by clinicians is warranted, because we now know that a significant percentage of them will have AFib."
AFib markedly increases a patient's risk of having a stroke. In the United States, approximately 795,000 people each year suffer a stroke, of which about 130,000 die. Those who survive are often left permanently disabled; in fact, stroke is the leading cause of serious long-term disability, according to the U.S. Centers for Disease Control and Prevention (CDC). Risk factors for AFib include age, high blood pressure, diabetes, obesity, kidney disease, sleep apnea and chronic obstructive pulmonary disease.
Patients' symptoms can be well managed with anti-coagulant medications, said Dr. Kowey. "We can treat AFib, which reduces the patient's risk of a stroke," he said. "In fact, this is one area where the medical community can have a major impact on the health of a large number of people: diagnosing atrial fibrillation and treating it to reduce the incidence of catastrophic stroke."
He advises that patients with risk factors for AFib and those who are experiencing heart palpations consult their doctors about being tested.
"The setting for proper screening will depend largely on the clinical scenario, but the results of this report clearly mandate that physicians have a high index of suspicion, and that patients at risk be appropriately diagnosed and managed," he said.
The results of the study, "Incidence of previously undiagnosed atrial fibrillation using insertable cardiac monitors in a high-risk population: The REVEAL AF study," were published in a recent issue of the biomedical journal JAMA Cardiology and presented at an international medical conference in Barcelona, Spain, in August.