Patients, state officials and Main Line Health Leadership celebrate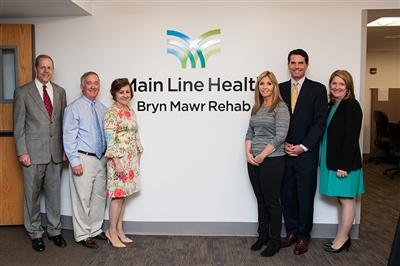 Bryn Mawr Rehab Hospital, part of Main Line Health, recognized the start of Rehab Awareness Week with a ribbon cutting for a new outpatient center on the Malvern campus. The Outpatient Center at Bryn Mawr Rehab Hospital includes 70,000 square feet of gym space, new state-of-the art therapy equipment, a centralized care area and 60 parking spaces specifically for outpatient visitors.
Donna Phillips, president of Bryn Mawr Rehab Hospital; Jack Lynch, CEO of Main Line Health; Brian McTear, Bryn Mawr Rehab Foundation board chair, State Representative Duane Milne; Dawn Martin a representative from Senator Tom McGarrigle's team; community leaders; Bryn Mawr Rehab staff and members of the community were in attendance for the occasion.
Following the ribbon cutting, patients, employees and family members assembled for the annual patient stories reception. Four former Bryn Mawr Rehab patients shared their story of recovery and re-connected with their care team.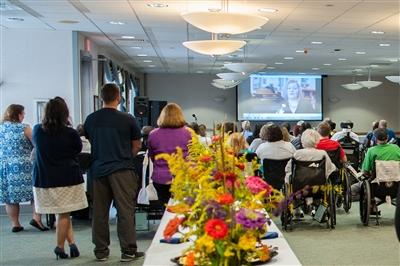 "This event is just another way we can connect our community of patients, caregivers and staff," said Donna Phillips, president of Bryn Mawr Rehab Hospital. "Having former patients share their stories to current patients is inspiring and reinforces the message to never give up, continue to set goals and to know that in every small success there is a victory."
Each year, Bryn Mawr Rehab Hospital takes part in a week-long celebration for employees in honor of National Rehab Awareness Week, a week dedicated to raising awareness of the value and impact of rehabilitation on individuals and the community.