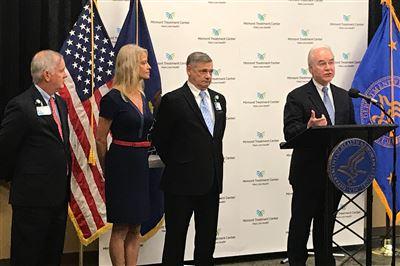 As part of the Trump Administration's ongoing effort to address the opioid crisis in America, Secretary Tom Price, MD, continued his listening tour to learn from those on the front lines battling the epidemic. On Friday, Secretary Price and Kellyanne Conway, counselor to the president, visited Mirmont Treatment Center, part of Main Line Health, located in the southern suburbs of Philadelphia.
Secretary Price and the Trump Administration understand that it is state and local policymakers, advocates, first responders, law enforcement officers, treatment centers, and many more who have responded to help their communities in the areas of response and recovery in this time of great need. With this in mind, Secretary Price and Ms. Conway participated in an employee town hall and a listening session with representatives from these groups to learn how the federal government can best support local initiatives and hear what is working and what is not.
During an employee town hall, Secretary Price thanked the entire Mirmont team for their service, passion and unwavering commitment to help community members overcome their addictions to opioids. "Let's be clear, this is a disease—not a morale issue—and it is a disease that knows no boundaries…it could be anyone of our brothers, sisters, daughters, sons or loved ones that is affected by addiction, and we all must work together as a nation to identify and implement best practice solutions," said Secretary Price.
During the press conference, Ms. Kellyanne Conway, special counselor to President Trump stated: "Today was an incredible experience. The insights from the front line team here at Mirmont and the personal stories community members shared during the round table give us another level of perspective in our efforts to combat the opioid epidemic. In particular, I was inspired and heartened by Mirmont's V.I.P.E.R program—it's an incredible service to our law enforcement, firefighters and first responders, and I plan to share information about this program with President Trump."
"On behalf of Tom Cain, president of Mirmont Treatment Center and the entire Main Line Health team, I want to thank Ms. Conway and Secretary Price for visiting us today. It is an honor and a privilege to have you here today and we are inspired by your commitment to address this epidemic which our employees at Mirmont work with commitment and compassion each day to help our patients overcome," said Jack Lynch, president and CEO, Main Line Health. "As Ms. Conway stated, this is a bi-partisan issue—and as Americans, we must unite together to put an end to this devastating disease."