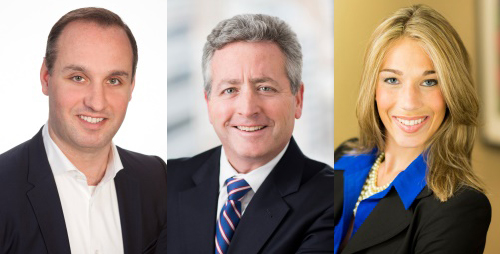 The Riddle HealthCare Foundation, part of Main Line Health, recently appointed Brian W. Coyle of Philadelphia, David L. Hackett, Esq., of Wallingford; and Abby L. Sacunas, Esq., of Media, to its Board of Directors. In their roles, they will assist with the foundation's fundraising efforts and provide input to the board on community needs.
"I am extremely confident that Abby, Brian, and David's professional experiences and knowledge of fundraising will serve the Riddle HealthCare Foundation well," said Gary Perecko, president of Riddle Hospital and the Riddle HealthCare Foundation. "They are a valued and welcomed addition to our board and to the Riddle Hospital community."
Coyle currently serves as president and CEO of The Henderson Group, a full-service, commercial real estate development company in Media. He oversees innovation and best practices in the development, leasing and management of commercial real estate. Coyle earned his Master of Science degree in real estate management from The Carey Business School of The Johns Hopkins University.
Hackett is a member of Cozen O'Connor law firm, focusing his practice on representing and counseling employers concerning the full spectrum of labor and employment-related issues. He previously served as a legislative assistant to U.S. Representative Curt Weldon and later served as co-chair of his campaign from 2003–06. While attending law school, Hackett served as a law clerk for the Honorable Frank T. Hazel in the Delaware County Court of Common Pleas. Hackett earned his law degree from Villanova University School of Law and his undergraduate degree from Duke University.
Sacunas is a member of Cozen O'Connor law firm, focusing her practice on business disputes, product liability and antitrust prevention and defense. She represents clients in the life safety, pharmaceutical, medical device, telecommunications and athletic equipment industries, and is consistently recognized as a "Pennsylvania Super Lawyer Rising Star." Sacunas earned her law degree from Syracuse University College of Law in 2005, magna cum laude, and earned her undergraduate degree from Syracuse University, cum laude.