Novel technology uses sonic pressure waves to treat leg artery blockages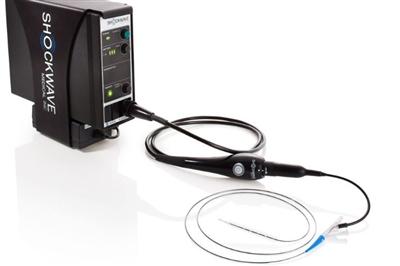 Bryn Mawr Hospital, part of Main Line Health's Lankenau Heart Institute, has announced the availability of a novel treatment for those suffering from peripheral artery disease (PAD). Bryn Mawr is the first in the region to offer Shockwave Medical's Lithoplasty® system, an innovative therapy designed to treat calcified leg artery blockages with lithotripsy. This sonic pressure wave treatment has been derived from a similar therapy used to treat patients with kidney stones.
PAD blocks blood flow to the legs and feet, causing significant pain and limited mobility, potentially leading to surgery or even amputation in severe cases. Caused by the buildup of plaque and calcium within the walls of arteries, PAD occurs primarily in the legs, but can be found in vessels throughout the body. Balloon angioplasty, which involves inflating a balloon within the artery at the area of narrowing and expanding the artery to alleviate the blockage, is commonly used to treat PAD. Many patients do not respond well to angioplasty alone, with failure rates as high as 50 percent often due to hardened calcium within the wall of the artery.
"This is yet another example of the Lankenau Heart Institute's commitment to providing cutting-edge treatment options for patients with heart and vascular conditions," said Sarang Mangalmurti, MD, an interventional cardiologist at Bryn Mawr Hospital. "We're thrilled to be the first in the region to offer this technology, which gives us the ability to more effectively treat hardened calcium with potentially less risk of damage or injury to the vessel."
Shockwave Medical's Lithoplasty system integrates angioplasty balloon catheter devices with the calcium-disrupting power of sonic pressure waves, known as lithotripsy. Each Lithoplasty catheter incorporates multiple lithotripsy emitters activated with the touch of a button after the balloon is inflated. Once activated, these emitters produce therapeutic sonic pressure waves that are inherently tissue-selective, passing through the balloon and soft vascular tissue, without damage and preferentially disrupting the calcified plaque inside the vessel wall by creating a series of micro-fractures. When the calcium has been modified, the vessel can be dilated using low pressures, thereby enabling even historically challenging PAD patients to be treated effectively with minimal injury to the vessel.
The technology is now commercially available in both the United States and Europe for the treatment of calcified plaque in peripheral arteries. On behalf of Lankenau Heart Institute, Bryn Mawr Hospital is serving as a clinical test site for Lithoplasty and will continue to participate in trials evaluating best practice usage and the effectiveness of this technology. William Gray, MD, system chief of the division of cardiovascular disease at Main Line Health and president of the Lankenau Heart Institute, is leading this important trial as its national principle investigator.
The Shockwave Medical Lithoplasty system is intended for lithotripsy-enhanced balloon dilatation of lesions, including calcified lesions, in the peripheral vasculature, including the iliac, femoral, ilio-femoral, popliteal, infra-popliteal, and renal arteries. Not for use in the coronary or cerebral vasculature.
To view an animation of the Lithoplasty system, visit shockwavemedical.com/us