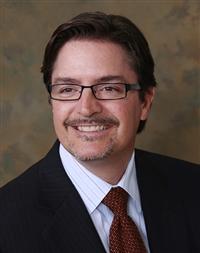 Albert DeNittis, MD, campus division chief of radiation oncology at Lankenau Medical Center, part of Main Line Health, has been awarded one of 16 positions within the National Cancer Institute's (NCI) Steering Committees and Task Force program. He was nominated and selected to be on the Rectal-Anal Task Force by his colleagues in NCI's Community Oncology Research Program (NCORP) physician/scientist community across the country. Dr. DeNittis will serve a three-year term on the Task Force, starting Sunday, October 1, 2017.
At Main Line Health, Dr. DeNittis serves as a principle investigator of NCORP, a cancer clinical trials program. Main Line Health is one of only 34 community sites in the United States—and one of only two in Pennsylvania—offering NCORP. The program provides Main Line Health patients with access to NCI-sponsored oncology clinical trials that study screening, prevention, and symptom management. Patients in the program have access to state-of-the-art clinical studies and new cancer treatments before they become available to the general public.
For the NCI Task Force, Dr. DeNittis will provide input and guidance that can help ensure the cancer clinical trials developed and approved by NCI meet the needs of surgical, medical and radiation oncologists around the country and the patients they treat.
"I am looking forward to helping the Task Force with its crucial work in setting new standards in care for patients with cancers of the rectum and anus," said Dr. DeNittis, who also serves as a clinical professor at Lankenau Institute for Medical Research, part of Main Line Health. "In particular, I hope to help integrate NCI's new translational and clinical research initiatives into practice at cancer care centers around the nation for the betterment of patients."
The Rectal-Anal Task Force membership is composed of investigators from NCI-funded multi-site networks, as well as community oncologists, patient advocates and biostatisticians. According to NCI officials, the Task Force:
Develops and refines phase 3 clinical trial concepts
Advises on the scientific merit of phase 2 and phase 3 trial concepts
Advises and organizes clinical trial planning meetings
Monitors ongoing clinical research studies
In Main Line Health's NCORP program, Dr. DeNittis is supported by more than 30 sub-investigators in medical, radiation and surgical oncology, along with clinical research nurses and coordinators at Lankenau Medical Center, Bryn Mawr Hospital, Paoli Hospital and Riddle Hospital. Main Line Health currently offers more than 60 cancer clinical trials across a variety of cancer types to patients across the system. Real-time trial information is available at clinical trials under the research section.