The 24,000 square foot center is the largest specialty outpatient surgery center in the region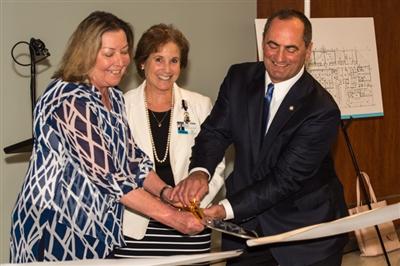 (Bryn Mawr, Pa.) – Main Line Health, Rothman Institute, health care management organization NueHealth and several other orthopaedists have collaborated to open an ambulatory surgery center in Bryn Mawr, Pennsylvania. The Orthopaedic Surgery Center at Bryn Mawr Hospital, part of Main Line Health, will occupy the fourth floor of a new medical office building on Bryn Mawr Hospital's campus. An open house with a ribbon cutting and tours of the new facility was held on Thursday, June 8.
"The Orthopaedic Surgery Center at Bryn Mawr Hospital will serve as a premier destination for outpatient orthopaedic services and will capitalize on the legacy of superior orthopaedic care for which both Main Line Health and Rothman are renowned," said Bryn Mawr Hospital President Andi Gilbert. "As our system looks for innovative ways to deliver care during this transformational time in health care, this new facility, designed with patient safety and comfort as a top priority, will provide high quality, outpatient surgery and procedures for a broad range of orthopaedic diagnoses."
As an extension of Bryn Mawr Hospital's orthopaedic center of excellence, this new facility houses four operating rooms—each larger than 600 square feet. It also includes three 250 square-foot procedure rooms. Additionally, the center has special preoperative bays, post anesthesia care unit bays and recovery bays. An estimated 27 orthopaedic surgeons will perform procedures at the surgery center, which is now the largest freestanding ambulatory surgery center in the region.
"This new facility further cements our commitment to the people of Bryn Mawr and the Main Line," said Alexander R. Vaccaro, MD, PhD, MBA, president of Rothman Institute. "Our partnership with Main Line Health continues to grow to the benefit of all our patients. This new surgery center is just the latest collaboration between our two organizations. We look forward to many more in the future."
According to Whitney Courser, senior vice president of business development and operations, NueHealth, this facility is unique to the Philadelphia health care marketplace; with an overarching goal to streamline care and lower costs, the new center simultaneously accelerates and capitalizes on an industry wide site of service shift. The generous floor plan and focused design promotes operational efficiency and allows the Center to accommodate more complex procedures typically reserved for inpatient settings. This approach emphasizes the quality and value of focused care sites, like ambulatory surgery centers, over their larger acute-care counterparts and will be instrumental in facilitating value-based care delivery.
View photos from the Orthopaedic Surgery Center ribbon cutting (Google Photos)