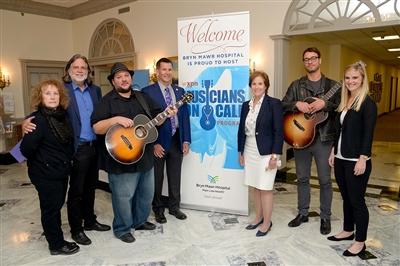 (Bryn Mawr, Pa.) – The WXPN Musicians On Call Program launched yesterday at Bryn Mawr Hospital, part of Main Line Health, with a special presentation and demonstration of the Bedside Performance Program at work. Musicians Mutlu and Amos Lee helped to kick-off the program, visiting and singing to patients on the cardiac, oncology and maternity units.
"We are incredibly excited for the launch of this program at Bryn Mawr Hospital," said Andrea Gilbert, president, Bryn Mawr Hospital. "This program adds to our mission of providing a superior experience in a healing environment for patients, visitors and staff. The kick-off event was truly remarkable, and I am grateful for the work of WXPN Musicians On Call, and to Subaru of America for their generous support in helping to make this program come together. Special thanks to Mutlu and Amos Lee for sharing their incredible talents with our patients."
WXPN Musicians On Call brings the healing power of music to the people who need it most—hospital patients—by delivering live, in-room performances to those undergoing treatment or unable to leave their beds. Since 2004, WXPN Musicians On Call volunteer musicians have performed for nearly 100,000 patients and their families within the Delaware Valley. The launch of WXPN Musicians On Call at Bryn Mawr Hospital was made possible in part with support from Subaru of America.
"Our program in Philadelphia with WXPN is a special one, as it was our first national expansion city 13 years ago," said Pete Griffin, Musicians On Call president. "We're proud to expand our footprint in the Philadelphia community and deliver the healing power of music to patients at Bryn Mawr Hospital."
"We are delighted to be able to bring our wonderful WXPN Musicians on Call program to Bryn Mawr Hospital," said Roger LaMay, general manager, WXPN. "Inviting local musicians to visit patient bedsides reflects the hospital's strong commitment to patient care."
Browse our website for information about the programs and services offered at Bryn Mawr Hospital and Main Line Health.