Event attended by many local and state elected officials and dignitaries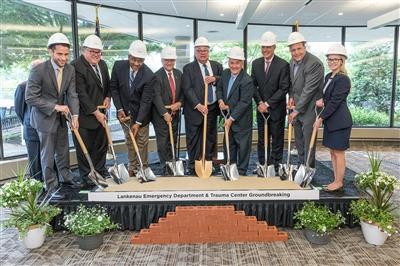 Lankenau Medical Center, part of Main Line Health, held a groundbreaking ceremony on Tuesday, May 30, for its emergency department's (ED) $52.8 million expansion, expected to be completed in 2019.
"This construction project is one of the most meaningful for Main Line Health as this reinvestment in Lankenau Medical Center ensures that superior patient care will continue to be provided to those in our region," says Phil Robinson, president, Lankenau Medical Center. "Having the support of our community members, as well as our state and local elected officials, demonstrates the critical need for this expansion project for our patients and the communities we serve."
The project will begin this July and will include 32,200 square feet of new construction and renovations of the current 15,800 square-feet area. When completed, the emergency department will be tripled in size, expanding to 57 private treatment rooms; a centralized, expanded, private check-in area; 31 acute beds to treat patients in need of immediate care; 23 "Super Track" rooms for patients with minor injuries or illnesses; and more trauma bays for severely injured patients. The ED will remain open to serve the community during the entire project.
"Lankenau's ED was built to handle 35,000 patients per year. Currently, the ED treats about 54,000 and that number is expected to reach 73,000 by 2025," adds Robinson. "The expansion will allow Lankenau to deliver advanced emergency and trauma services in an innovative and highly functional space that will reflect the expertise and commitment of our team."
Addressing the attendees at the event were U.S. Senator Bob Casey; U.S. Congressman Dwight Evans; State Senator Daylin Leach; Montgomery County Commissioners Chair, Dr. Valerie Arkoosh; Steve Aichele, chairman, Main Line Health Board of Governors; Jack Lynch, president and CEO, Main Line Health; and Phil Robinson, president, Lankenau Medical Center. Also in attendance were representatives from the offices of U.S. Senator Pat Toomey and U.S. Congressman Pat Meehan; State Representative Tim Briggs; State Representative Mary Jo Daley; Montgomery County Board of Commissioners Vice Chair, Kenneth Lawrence Jr.; Montgomery County Commissioner, Joseph Gale; Lower Merion Township Commissioner President, Dan Bernheim; and many Lower Merion Township Commissioners and other dignitaries.