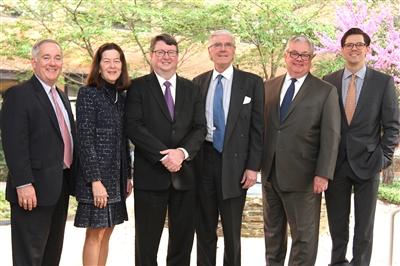 (Wynnewood, Pa.) – Lankenau Medical Center, part of Main Line Health, recently held a celebratory dinner at the Walter and Leonore Annenberg Conference Center for Medical Education at Lankenau Medical Center to mark the establishment of The Havens Chair for Biomedical Research, generously endowed by Peter and Louise Havens. The first incumbent chair holder is George C. Prendergast, PhD, president and CEO, Lankenau Institute for Medical Research (LIMR). An endowed chair is a distinguished position that is bestowed upon an exceptional Lankenau leader.
The Havens Chair was created through the combination of a $1 million gift from Peter and Louise Havens, leading Lankenau benefactors, that was matched by a $1 million grant from the Lankenau Medical Center Foundation through its $1 million+ matching initiative. Margaret Foti, PhD, MD, CEO of the American Association for Cancer Research, the oldest cancer research organization in the world, was guest presenter.
"We are fortunate to have nine donor-endowed chair positions that exemplify the hope, excellence and innovation that are palpable at Lankenau Medical Center," said Phil Robinson, president, Lankenau Medical Center. "The value of endowed chairs underscores the importance of scholarship in both the practice of medicine and society at large. The Havens Endowed Chair for Biomedical Research will serve to advance critical scientific research at Lankenau for generations to come."
Peter and Louise Havens have a storied family history at Lankenau that goes back several generations. Peter Havens' great-grandfather, Hermann Hessenbruch, was the president of Lankenau from 1901–1913, following the passing of John D. Lankenau. Peter's grandmother, Florence Dreer Hessenbruch, was the first president of the Women's Board, as well as the founder of the Deaver Auxiliary and the Gift Shop at Lankenau. During Peter Havens' tenure, LIMR researchers have made myriad breakthroughs, including advancing a promising new cancer therapy using "IDO inhibitors" (experimental drugs originally discovered by Drs. George Prendergast and Alexander Muller, associate professor at LIMR). IDO inhibitors that are now in multiple clinical trials have been named among the 'top 10' experimental treatments that could cure cancer by the National Cancer Institute.
"It is an honor to celebrate the exceptional largesse of Mr. and Mrs. Havens to Lankenau," added Robinson. "We especially thank Mr. Havens for his dedicated work as chairman of the board of the Lankenau Institute for Medical Research, in addition to his service as a trustee on the Main Line Health and Lankenau Boards. As chairman of its boards, Mr. Havens has ably guided LIMR, in partnership with Dr. George Prendergast, into an exciting new era of possibilities."