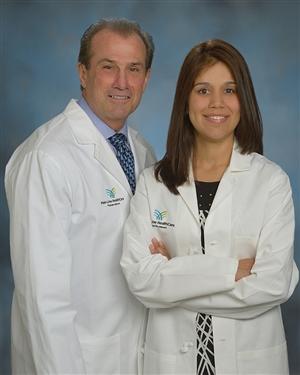 The Main Line HealthCare Physician Network is pleased to welcome Bailey and Almonte OB/GYN to Lankenau Medical Center.
Drs. Scott Bailey and Licette Almonte offer personal and compassionate care for women throughout every stage of their lives, including adolescent gynecology. The practice has clinical expertise in such conditions as endometriosis, uterine fibroids, pelvic organ prolapse and menopause. Treatments include routine OB/GYN care, various types of hysterectomy, and both hysteroscopic and laparoscopic procedures.
Dr. Bailey, board-certified in obstetrics and gynecology, and has been at Lankenau Medical Center since 1989. He received his medical degree from the State University of New York-Stony Brook and completed his obstetrics and gynecology residency at New York Hospital in New York City.
Dr. Almonte is board-certified in obstetrics and gynecology and joined Dr. Bailey in practice in 2013. She received her medical degree from Drexel University School of Medicine and completed a residency in obstetrics and gynecology at Abington Memorial Hospital in Abington, Pennsylvania. She is fluent in Spanish.
Main Line HealthCare Bailey and Almonte OB/GYN is conveniently located on the campus of Lankenau Medical Center in Suite 216, Medical Office Building South, 100 East Lancaster Avenue, in Wynnewood. The practice is accepting new patients and participates in most insurance plans, and they have convenient office hours including evenings.
To make an appointment or for more information about the practice, call 610.658.5266, or visit mainlinehealth.org/baileyalmonteobgyn.