This year marks the 10th anniversary of the first mock crash demonstration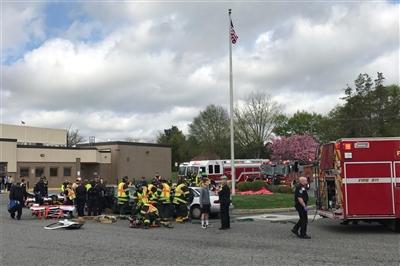 Main Line Health is the recipient of a $45,000 grant from State Farm Insurance Company to support the mock crash and Bryn Mawr Rehab Hospital's Cruisin' Smart® demonstrations throughout the communities we serve. Downingtown East High School kicked off the safe driving season on April 10 with the first Mock Crash and Cruisin' Smart demonstration of 2017, followed by Strath Haven High School on April 18 and Sun Valley High School on April 19, through the State Farm grant.
"For 10 years now, Main Line Health and State Farm have proudly partnered to present these exceptionally moving demonstrations at local high schools in an effort to raise awareness of the hazards of impaired and distracted driving," says Donna Phillips, president, Bryn Mawr Rehab Hospital. "We are incredibly grateful to State Farm for their philanthropy and for their genuine interest in saving the lives of thousands of students in our region. This grant will help deliver an impactful experience that we hope will encourage healthy habits and decision making for teen drivers, ultimately preventing avoidable tragedies from taking place."
The State Farm grant allows Main Line Health to offer Mock Crash and Cruisin' Smart demonstrations at ten area high schools in Delaware, Montgomery and Chester counties to raise the awareness among student audiences of the life-threatening dangers of impaired and distracted driving. This year's remaining demonstrations are scheduled to take place at the following schools:
Harriton High School – April 24, 2017
Owen J. Roberts High School – April 25, 2017 (Rain Date: April 27)
Penncrest High School – April 26, 2017 (Rain Date: April 28)
Ridley High School – May 10, 2017 (Rain Date: May 11)
Henderson High School – May 15, 2017 (Rain Date: May 19)
Great Valley High School – May 18, 2017
Garnet Valley High School – May 24, 2017 (Rain Date: May 25)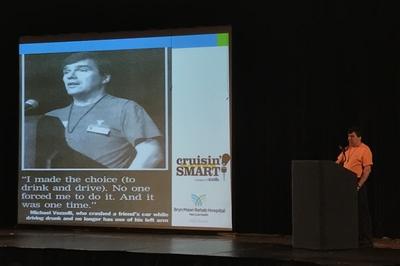 Each mock crash offers students a first-hand perspective of a car crash, caused by an impaired and distracted student driver. Actors, emergency medical services, police and fire companies bring the scene to life for students with crashed cars, stretchers, equipment and the Jaws of Life to convey to young drivers and passengers that driving distracted or impaired can lead to horrendous outcomes.
"State Farm is proud to partner with Main Line Health in promoting safe driving by exemplifying the consequences of unsafe driving practices," said Dwayne Redd, community field specialist, State Farm. "It is preventative programs such as these that help to make the roads of the Delaware Valley a safer place for everyone."
The partnership between State Farm and Main Line Health extends back to 2007, when the first mock crash demonstration was presented by Riddle Hospital at Penncrest High School. Since then, the grant was expanded to include Paoli Hospital in 2010, Bryn Mawr Rehab Hospital in 2014, and last year was extended to the entire Main Line Health system.
About State Farm
The mission of State Farm is to help people manage the risks of everyday life, recover from the unexpected, and realize their dreams. State Farm and its affiliates are the largest providers of auto and home insurance in the United States. Its nearly 19,000 agents and nearly 70,000 employees serve more than 84 million policies and accounts—more than 81 million auto, fire, life, health and commercial policies, and more than two million bank accounts. Commercial auto insurance, along with coverage for renters, business owners, boats and motorcycles, is available. State Farm Mutual Automobile Insurance Company is the parent of the State Farm family of companies. State Farm is ranked No. 35 on the 2016 Fortune 500 list of largest companies.