Dr. Harris' seven-member team beat 312 teams from 38 countries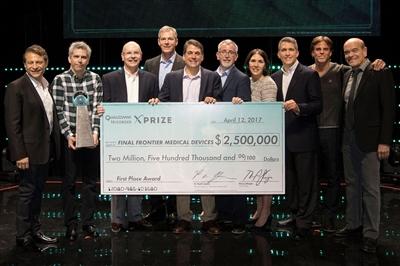 Basil Harris, MD, an emergency medicine specialist at Lankenau Medical Center and affiliate clinical member of the Lankenau Institute for Medical Research, both part of Main Line Health, and his team, Final Frontier Medical Devices, took home the top prize of $2.5 million in Qualcomm's XPRIZE competition.
The competition challenge, launched in 2012, was to invent a Star Trek-inspired tricorder with the capability of diagnosing 13 conditions and monitoring vital signs. Dr. Harris's entry, named DxtER, can diagnose 34 conditions and transmit information to medical providers—from home. DxtER includes a collection of non-invasive sensors designed to collect data about vital signs, body chemistry and biological function.
"This truly is a new revolution in health care and we are just seeing the beginning," says Dr. Harris. "This competition was a wonderful demonstration of technology and my team and I were honored to be among such talented peers across the globe. The hard work really begins now—right here at Lankenau Medical Center and Main Line Health—where we are starting clinical trials of the device and working on gaining the appropriate FDA approvals."
The seven-member, self-funded Final Frontier Medical Devices team beat 312 teams from 38 countries, including the second place team backed by the Taiwan government and cellphone company HTC and led by a Harvard researcher. Dr. Harris's team included his four siblings. His wife and children also helped bring the device to life—designing and testing prototypes, editing documents, and overseeing the wiring and sanding of the devices made on 3D printers.
Learn more about Dr. Harris' work in the Qualcomm's XPRIZE competition in Main Line Health's Physician magazine.