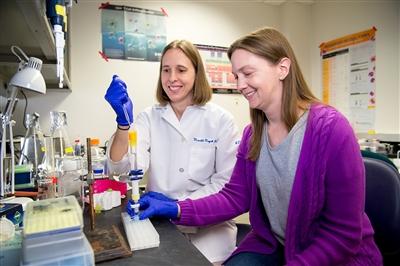 A new therapeutic approach to treating rheumatoid arthritis (RA) was developed recently by researchers at the Lankenau Institute for Medical Research (LIMR). They demonstrated in preclinical studies that a specific monoclonal antibody both reduced RA's impact and even stopped the onset of the disease.
Afflicting approximately 1.3 million Americans, RA is a debilitating autoimmune disorder that causes painful inflammation of the joints. Current medications focus primarily on controlling the inflammation—that is, on treating the symptoms rather than blocking the pathogenic mechanisms that underlie RA development.
The researchers theorized that specifically targeting enzymes that modulate the immune response could provide a useful therapeutic strategy to treat autoimmune disease. IDO2, an enzyme discovered by LIMR scientists, promotes inflammation in autoimmune disorders and was an attractive target for antibody therapy development.
"We administered an anti-IDO2 monoclonal antibody to mice, and found that those that received the antibody developed only mild arthritis," said Lauren Merlo, PhD, lead author of the study and research assistant professor in the laboratory of LIMR's Laura Mandik-Nayak, PhD. "This result builds on our lab's previous work demonstrating that IDO2 was important to the disease process at the genetic level and was especially promising because it extended to multiple preclinical models of arthritis."
In their paper "Therapeutic antibody targeting of indoleamine-2,3-dioxygenase (IDO2) inhibits autoimmune arthritis," the authors stated that their results strongly support the theory that IDO2 is a critical mediator of arthritis development; thus, therapeutic targeting with an IDO2-specific antibody can be used to alleviate disease. This study was published in a recent edition of the biomedical journal Clinical Immunology and was noted as a "research highlight in experimental arthritis" in the Nature Reviews Rheumatology article "Do you want to treat arthritis? IDO2!"
"What is particularly exciting about our results is that we are able to successfully target a molecule that, because of its intracellular location, would not traditionally be considered a candidate for antibody therapy. This highlights the enormous and as-yet unexplored potential of monoclonal antibodies as a therapeutic strategy to target intracellular antigens in the treatment of autoimmune diseases," said Dr. Mandik-Nayak, LIMR associate professor and the study's senior author.
Other LIMR researchers on the investigation team included Samantha Grabler, James DuHadaway, Elizabeth Pigott, Kaylend Manley, George Prendergast and Lisa Laury-Kleintop. Their work was funded in part by the Lupus Research Alliance, the Women's Board of Lankenau Medical Center, and the Zuckerman Family Autoimmune Disorder Research Fund.