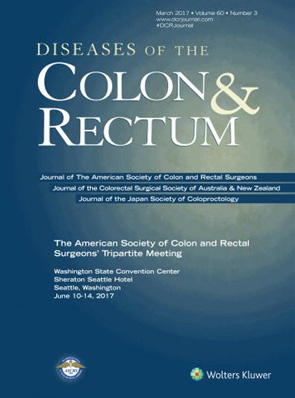 In conjunction with Colorectal Cancer Awareness Month, the lead article in the March issue of Disease of the Colon & Rectum, a publication of the American Society of Colorectal Surgeons, was authored by John Marks, MD, section chief of colorectal surgery at Main Line Health, and medical director of the Harry Paul Mirabile, Sr., Colorectal Cancer Center at Lankenau Medical Center, part of Main Line Health. The article was also featured as a podcast.
Dr. Marks' article, "Quality of Life and Functional Outcome After Transanal Abdominal Transanal Proctectomy for Low Rectal Cancer," highlights the research conducted by Dr. Marks and his colleagues, including Lankenau's Jean Salem, MD, and his father Gerald Marks, MD, to evaluate the outcomes of 90 patients with cancers in the bottom third of the rectum who avoided a permanent colostomy by using chemotherapy and TATA (Transanal Abdominal Transanal Radical Proctosigmoidectomy). TATA is a sphincter-preserving surgery pioneered by Dr. Marks.
The study findings indicated that, although TATA patients' bowels will not function as they did before cancer, patients do develop a new normal that they are pleased with. Compared with life with a colostomy, patients in the study unanimously preferred the sphincter-sparing TATA surgery over life with a colostomy bag. The study also found that function improves and patients adapt to their 'new normal' after their surgery.
"Lankenau is setting the standard of care for colorectal cancer treatment. The TATA and our minimally-invasive treatment options allow for more than 90 percent of our patients to avoid a colostomy bag after colorectal cancer surgery," said Dr. Marks. "It is an honor to have our work highlighted in such a prominent journal, and to share research that can make an incredible impact on the future of colorectal cancer care."
Along with the TATA procedure, Dr. Marks has introduced several other surgical techniques, including Transanal Endoscopic Microsurgery and Single Incision Laparoscopic procedures, to spare colon and sphincter function with little to no scarring. These procedures have resulted in thousands of patients going on to lead normal lives after a diagnosis of colon and rectal cancers. His expertise continues to receive attention from across the nation and the globe, with patients traveling from Mexico, Nepal, Europe and Africa, among other places.
March is Colorectal Cancer Awareness Month—a reminder for all members of the community to be proactive in preventing and screening for colorectal cancer. The most effective way to prevent colorectal cancer is regular colonoscopies. It's recommended that colonoscopies begin at age 50 and continue until 75, but screenings should start earlier if there are other risk factors—like a personal or family history of colon cancer, polyps, or inflammatory bowel disease or if symptoms like bleeding, change in bowel habit, or unexplained weight loss occur.
"Colorectal cancer remains one of the nation's leading causes of cancer deaths. Fortunately, it is a highly treatable disease. When it is found and treated early, the five-year survival rate is about 90 percent. Get screened regularly, and talk to your doctor about risk and prevention," said Dr. Marks.