Video highlights Lankenau's Wellness Farm and the benefit of bringing fresh produce directly to patients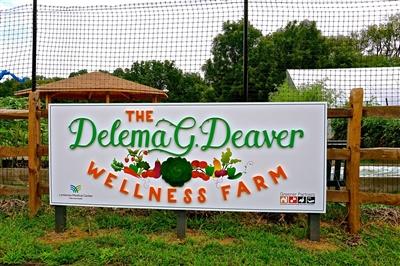 Lankenau Medical Center, part of Main Line Health, was recently featured in the "Good Food, Healthy Hospitals" video, highlighting the achievements of the initiative, developed by The Common Market and Get Healthy Philly. The video demonstrated Lankenau's commitment to incorporating local produce into the primary care setting and cafeteria farm stand to make a direct connection between nutrition and health for patients and visitors. The local produce is provided from both the Delema G. Deaver Wellness Farm, managed by Greener Partners and located on Lankenau Medical Center's campus, and through a collaboration between Lankenau, Aramark and The Common Market.
"One of the things I've been so excited about with the Good Food, Healthy Hospitals initiative is the support we've been getting to leverage the assets we have here at Lankenau," said Chinwe Onyekere, associate administrator at Lankenau Medical Center and system administrator of Graduate Medical Education at Main Line Health. "The Delema G. Deaver Wellness Farm at Lankenau has brought fresh produce directly to our patients. It gives our clinical staff the opportunity to educate the patients and our community members of the benefits of these fruits and vegetables, and how they can incorporate them into their daily lives."
The Good Food, Healthy Hospitals is a four-year, government-funded program with a goal of transforming Philadelphia's hospital food environment and bringing healthier options to employees, patients and visitors every day. Since October 2014, the initiative was adopted at 12 hospitals across the Philadelphia region. Also featured in the video were Episcopal Hospital and Einstein Healthcare Network.
In addition to providing fresh produce for patients and members of the community, the half-acre Delema G. Deaver Wellness Farm serves as a hands-on educational center for thousands of students who visit Lankenau Medical Center's Health Education Center. Greener Partners' resident farmer-educator, Jen Malkoun, who was featured in the video, manages the site and hosts educational programs on the farm. The video also highlighted the work of Aramark at Lankenau Medical Center, and their success in providing a healthy, fresh menu in the hospital's cafeteria for employees, patients and visitors.