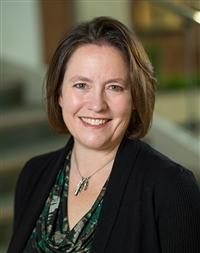 Rebekah Sassi has been named executive director of development at Riddle Hospital and the Riddle HealthCare Foundation (RHCF), part of Main Line Health. In her new role, Sassi will be responsible for organizing and implementing a development program which includes fundraising, solicitation and other philanthropic endeavors. Sassi replaces Steve Derby, who spent 20 years in this role and was instrumental in the formation of the RHCF. During his tenure, Derby contributed to the Foundation's steady growth and success in filling its purpose of supporting and advancing the mission of Riddle Hospital through philanthropy.
"Rebekah's experience in successfully leading the fundraising activities at one of Philadelphia's most iconic cultural organizations made her a most suitable choice for the Director of Development role at Riddle Hospital," said Kenneth Kirby, Senior Vice President, Development, Main Line Health. "I am certain that Rebekah will continue to help us foster strong donor relationships to support Main Line Health's mission of providing a superior experience to the communities we serve."
Sassi comes to Riddle Hospital from Philadelphia's historic Walnut Street Theatre, where she was director of institutional advancement. During her 19-year tenure at the theatre, major gifts from individuals dramatically increased. She produced more than 50 fundraising events, authored five strategic plans and developed programs garnering support from regional and national funders.
Prior to her position at the theatre, Sassi was director of development and interim managing director of the George Street Playhouse in New Brunswick, New Jersey. In addition to managing major fundraising operations, Sassi is a frequent speaker on the topics of philanthropy, board development and non-profit careers.
Gary Perecko, president, Riddle Hospital, commented on Sassi's appointment: "The Riddle Healthcare Foundation has enjoyed steady growth and success in fulfilling its purpose of supporting and advancing the mission of Riddle Hospital through philanthropy. I am confident that under Sassi's directorship, the foundation will continue to attract key community members to its board and will play a significant role in the growth of our hospital."
Sassi is a graduate of Hamilton College in Clinton, New York with a bachelor's degree in creative writing. She has served on the board of the Theatre Alliance of Greater Philadelphia and has guest lectured with numerous colleges, universities and non-profit organizations. She was selected as one of Leadership Philadelphia's 76 Culture Connectors and was named a leadership fellow from the Philadelphia Cultural Management Initiative.