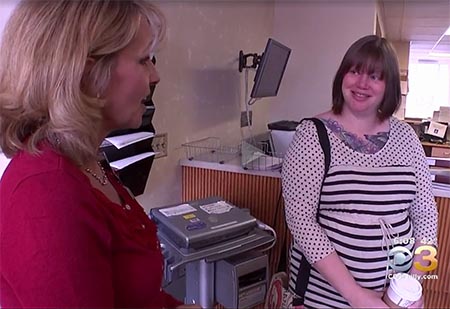 After losing a daughter, Larkin, to a birth complication, Tina Rose is finding hope by helping others. She visited Riddle Hospital and Lankenau Medical Center with comfort bags for our nursing team to distribute to parents coping with the loss of an infant.
"To turn this loss into something that's going to be so meaningful for someone else, really it's so heartwarming," said Rosi Wurster, Vice President of Patient Care Services at Riddle Hospital.
From CBS3:
On this Valentine's Day, a story of love through giving after grief and finding hope by helping others. It's a mother's mission of sharing.
We first told you about this Delaware County mother last year.
Tina Rose is part of a big online network of moms who have lost babies and on Valentine's Day she delivered gift bags to Riddle Hospital where she was greeted by the staff with hugs and tears.
The gift bags full of books and soothing candles will go to mothers who lost babies.
"It's bittersweet for me because I wish that there was no need for this," said Tina who knows all about the pain of losing a baby.
Tina's baby girl Larkin died from a birth complication a year and a half ago.